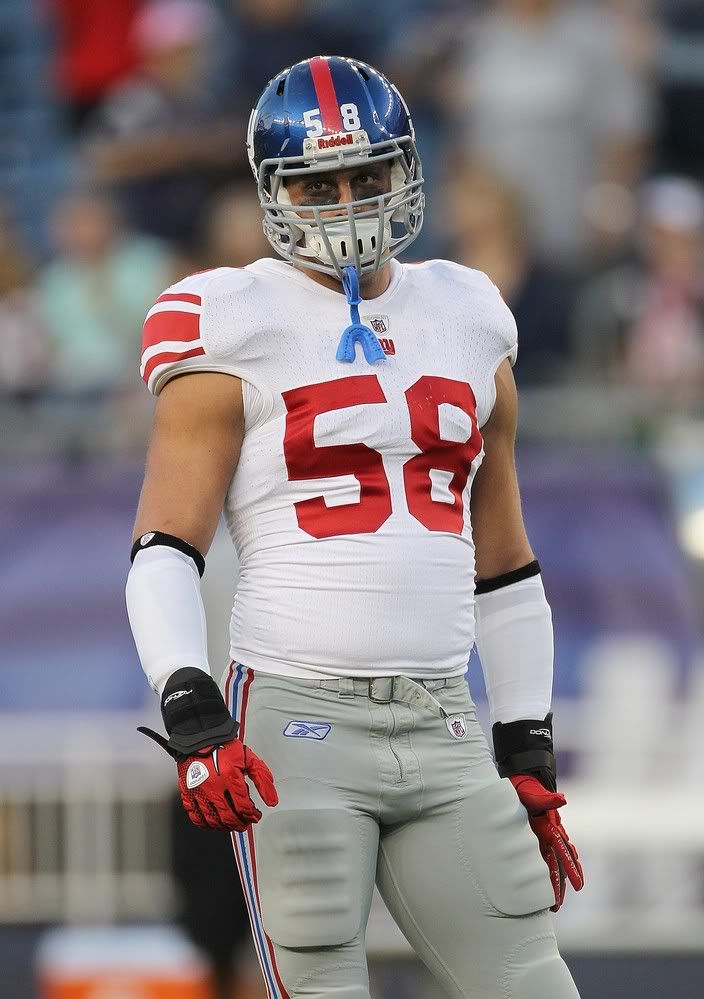 Before training camp started, many of the position battles that the New York Giants would encounter was well established, especially here at Giants 101. One of the biggest battles we may see all summer long is the linebacker positions; all three of them.
Currently, nine players are in camp battling it out and with each day of camp and practice that passes, along with each preseason game, this could be a battle that ends up being determined in September when the regular season kicks off on September 8.
All three starters from last season are not there; although Mathias Kiwanuka is still on the team, but has moved back to his natural position of defensive end due to the injury to Jason Pierre-Paul and the free agent departure of Osi Umenyiora to the Atlanta Falcons.
The other two starters; Chase Blackburn and Michael Boley, are no longer on the team, thus opening up what hopefully will be a fierce competition with guys seizing the jobs, and not players being handed them because nobody has emerged or earned the spot.
In camp, it's Keith Rivers, Aaron Curry, Jacquian Williams, Spencer Paysinger, Etinne Sabino and Kyle Bosworth competing for the outside linebacker spots while Mark Herzlich, Dan Connor and Jake Mussau are competing for the inside linebacker job. Over the weekend, Giants linebacker coach Jim Herrmann told Kieran Darcy of ESPN New York that there has definitely been competition with the nine players and that it will bring out the best in each of them.
"There's competitions all along the board, really," linebackers coach Jim Herrmann said prior to Saturday's practice. "And to me, that's really good. Because if they're all getting better, we're gonna be better."
Herrmann referenced that instead of set starters who play on every single down, he, along with defensive coordinator Perry Fewell, are contemplating setting certain players as first and second down linebackers and others as third down linebackers on defense, something that could really open things up for different players and allow them to grow into a certain role and excel at it.
"To me the ballgame's broken up into two phases," Herrmann said. "First and second down, and then to me third down is a completely different game, because the majority of the teams in this league are gonna throw the ball every play on third down. And so your mind-set's different, the guys you put on the field are different."
Another potential scenario that could change things dramatically is if the Giants shift from their usual 4-3 defense into a 3-4; something that the Giants haven't used under the current coaching staff, but with certain looks closed off to the media at camp, it's been widely speculated that the team could break it out as the season gets going. If that's the case, then it's not just three jobs up for grabs, but instead four linebacker spots.
The long-shots to make the team are Bosworth, Sabino and Mussau, although if any of them impress enough, maybe one of them could be kept on for depth purposes and maybe even special teams duties on punt and kick-off duties. Most see the competition between the other six.
Both Rivers and Curry are intriguing because both were former first round picks back in the 2008 and 2009 NFL Drafts respectively, and were both brought to the Giants looking for their second chance in the NFL. With Rivers, his health is the biggest question mark and whether or not he can make it for a full 16-game schedule.
For Curry, it's the chance to show the entire NFL that he wasn't a draft bust for the Seattle Seahawks and still possesses the talent he had coming out of Wake Forest that made him the number four overall pick four years ago. What also makes Curry interesting to watch is that he could not only play outside linebacker, but he might be able to play at inside linebacker as well, which could increase his chances to get more playing time in certain schemes.
No matter who wins out at each linebacker spot this season, Herrmann really appreciates the fact that he has solid players that he can coach who are not jusy trying to beat each other out, but ones who look to help one another out on and off the field.
"It's been great competition, and the guys, the group, the room, they're all good guys," Hermann said. "There's nine good men there, and they all understand they're competing, but they're also trying to help each other get better. As a coach I can't ask anything more from them."
With camp continuing through the week, the linebackers first real test against live competition will be this Saturday in the team's first preseason game at Heinz Field against the Pittsburgh Steelers.
Photo credit: BigBlueCowboy / Photobucket / CC BY-NC-SA
Also…
Gearing up for the fantasy season? Try weekly fantasy football games this year at DraftDay.com. DraftDay has awarded over $15 million to fantasy fans like you, so don't miss out on the newest way to play fantasy football! Create your free account and use promo code GIFT for an instant cash bonus.
Tags:
Aaron Curry
,
Dan Connor
,
Football
,
Jacquian Williams
,
Keith Rivers
,
Mark Herzlich
,
New York
,
New York Giants
,
NFL
,
Spencer Paysinger