At one point in time, many wondered if Mark Herzlich would ever play football again. And even after beating Ewing's Sarcoma and signing with the New York Giants as an undrafted rookie free agent, questions lingered. Was he merely a fell good signing? Could he actually make the team? Well, he was a feel good story, and not just because he beat cancer, but because he's a hell of a football player who not only made the team, but went on to win himself a Super Bowl ring.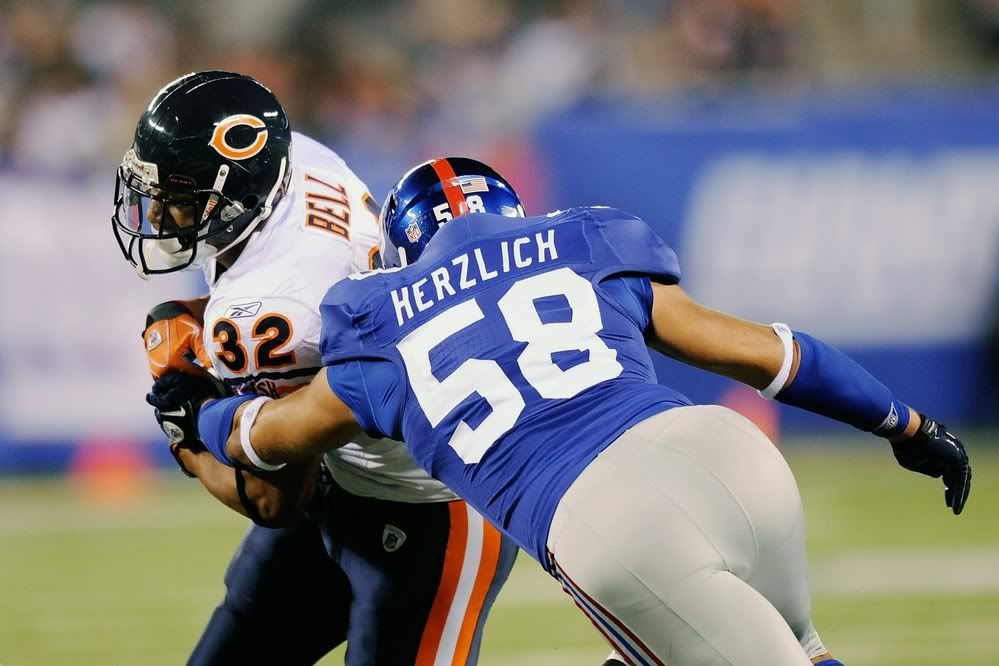 Now, here in 2013, Herzlich has surprisingly flown under the radar. The irony being that if there was ever a time to talk about what Herzlich means to a team on the field, this would be it.
With Chase Blackburn now in Carolina with the Panthers, Herzlich has the greatest opportunity of his career ahead of him: a chance to win the starting middle linebacker job for the New York football Giants.
"This is an unbelievable opportunity, just to have the opportunity to break into the starting role," Herzlich said. "And the rest is on me — whether I perform well enough and do well enough and study well enough to get that job."
Throughout OTAs and during the first day of mandatory mini-camp, Herzlich has primarily found himself starting at MLB on the first-team defense. In others words, it would appear as if the starting job has become his to lose. And to say he's taking it seriously would be a bit of an understatement.
"After the first OTA, we always go and watch the films — me and [Spencer Paysinger] were watching film, and we're like, 'We're gonna know this defense better than the coaches,'" Herzlich said. "So we went to Costco that day, got dry erase boards — I was on the dry erase board all [Monday], just reviewing everything from OTAs, getting ready for minicamp. That way, when you eliminate the mental mistakes, you can play faster and more physical."
Of course, as the team moves into training camp and the preseason, competition will heat up. Recently signed linebacker Dan Connor will compete for snaps, as will Jake Muasau and, possibly, Keith Rivers, who has some experience in the middle.
But, at the end of the day (royalties to Antrel Rolle), Herzlich has the inside track and does not appear ready or willing to let up. Odds are, he'll be the man starting in the middle when Big Blue opens their season against the Dallas Cowboys in early September.
Photo credit: BigBlueCowboy via photobucket cc
Also…
Tags:
Chase Blackburn
,
Football
,
Mark Herzlich
,
New York
,
New York Giants
,
NFL
,
Spencer Paysinger