For months (well, at least this calendar year), there has been heavy discussion about the New York Giants' linebackers corps and the speculation about the current open competition at the position. Somehow, debates always rewind to years when that second level of defense was what loaded the stands and brought Big Blue Faithful to their feet (to the dismay of those who prefer to "sit" during games, pssh). Ever really wonder why?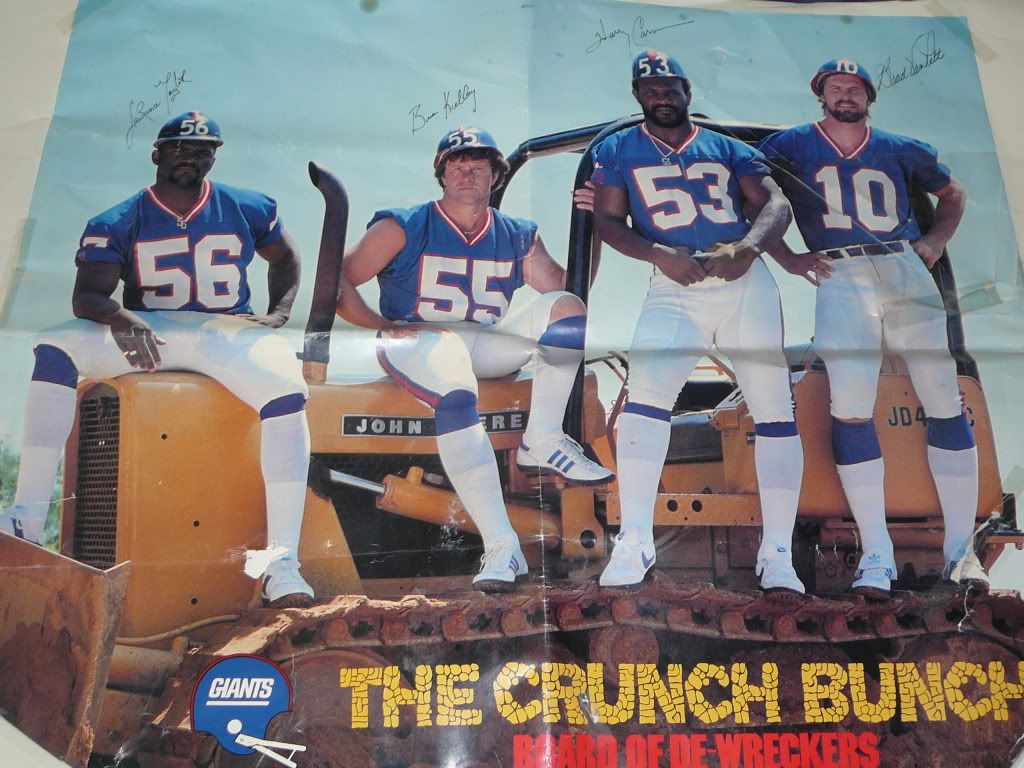 Linebackers were the pile-driving, injury-causing, fear-instilling players in blue starting with the days of Mike-backer, Sam Huff. After a bit of a defensive dearth and offensive resurgence, the time came for the defensive unit to gain back their dreaded signatures. "The Crunch Bunch" (Harry Carson, Lawrence Taylor, Brad Van Pelt, and Brian Kelly) eventually gave way to the "Big Blue Wrecking Crew" with the likes of a more feared corps headed by ILB Harry Carson, Gary Reasons, Lawrence Taylor, OLB Carl Banks and Pepper Johnson. As years pass, usually only one 'backer became "the guy;" in those times, it was Jesse Armstead, and later on MLB Antonio Pierce.
Those early to mid-80's linebacker groups set a standard for the G-Men fanatics. Many quarterbacks as well as coaches can tell you to this day.
"The Giants drove me crazy. They gave me the most fits. They were the opposite of Buddy Ryan's Bears defense. They played that soft two-deep zone that didn't allow any big plays. You had to earn everything you got against the Giants", was Washington Redskins' head coach Joe Gibbs' way of describing the Big Blue Wrecking Crew run by defensive coordinator Bill Belichick under head coach Bill Parcells.
What was nice for those guys playing in front of them (not that defensive linemen by the likes of George Martin, Jim Burt, and Leonard Marshall, and Eric Howard were slouches by any means!), but many "Throwback Thursday" and "Flashback Friday" memories are brought back by the simple fact that while most signal-callers were on the lookout for blue play-making linebackers, that was when the front three (or four) were deemed okay to let go. Ask San Francisco 49er quarterback Joe Montana who he was more worried about on January 20, 1991– LB Lawrence Taylor or DE Leonard Marshall (or Jim Burt on an earlier date). Ask former Philadelphia Eagles QB Ron Jaworski who he still has nightmares about facing. Shoot, even former 'skins passer-turned commentator Joe Theismann has stopped answering queries on an infamous hit and career-ending injury.
A certain reign of terror was always on schedule when another NFL team was to face the Giants and it was primarily due to a crew of players that could rarely be stopped or accounted for. Now ya' understand why there's a certain calling (more like demand) during free agency and the NFL Draft? Problem is the ever-changing game rules would not allow for the Crunch Bunch, let alone the BBWC to make a comeback (YouTube some of these throwback hits, starting with the following).
Penalties, anyone?
Also…
Tags:
Antonio Pierce
,
Bill Belichick
,
Bill Parcells
,
Carl Banks
,
Football
,
George Martin
,
Harry Carson
,
Joe Montana
,
Lawrence Taylor
,
New York
,
New York Giants
,
NFL