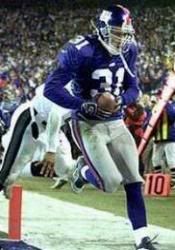 Initially, New York Giants rookie safety Cooper Taylor said he would like to model his career after Steve Atwater. However, there's another former player that has influenced Taylor's young career, and he goes by the name of Jason Sehorn.
"I'm definitely kind of an enigma for the position, not a whole lot of guys like me," Taylor recently said, noting that Sehorn was similar. "Hopefully that plays to my advantage."
The comparison, and the mere suggestion that he'd like to be as successful as Sehorn was before injuries slowed his career, registered with the retired defensive back.
"It's very flattering," said Sehorn. "You grow up watching people and you kind of become a fan of them. I'm big, he's big, you start to see similarities. I think every athlete looks to somebody else as a similarity in body type to say 'OK, there's a match for me, I can do this.' "
And the notion of moving Cooper to a different position because of his size? Nonsense, says Sehorn, who suggests Big Blue leave the youngster right where he is.
"Size is the box they place you in in the beginning, and it's up to you to convince them it's inappropriate or it's wrong," Sehorn said. "Leave him at safety. Let him break the mold. I know when I got to the Giants that first year they put me at safety and I was kind of miserable because I didn't really want to play safety. I felt I was athletic enough to play corner."
If Taylor turns out to be anything like Sehorn or Atwater, the Giants got themselves a steal.
Also…
Tags:
Cooper Taylor
,
Football
,
Jason Sehorn
,
New York
,
New York Giants
,
NFL