Not since 2007 have the New York Giants carried three quarterbacks on their 53-man roster. However, expect that to change here in 2013.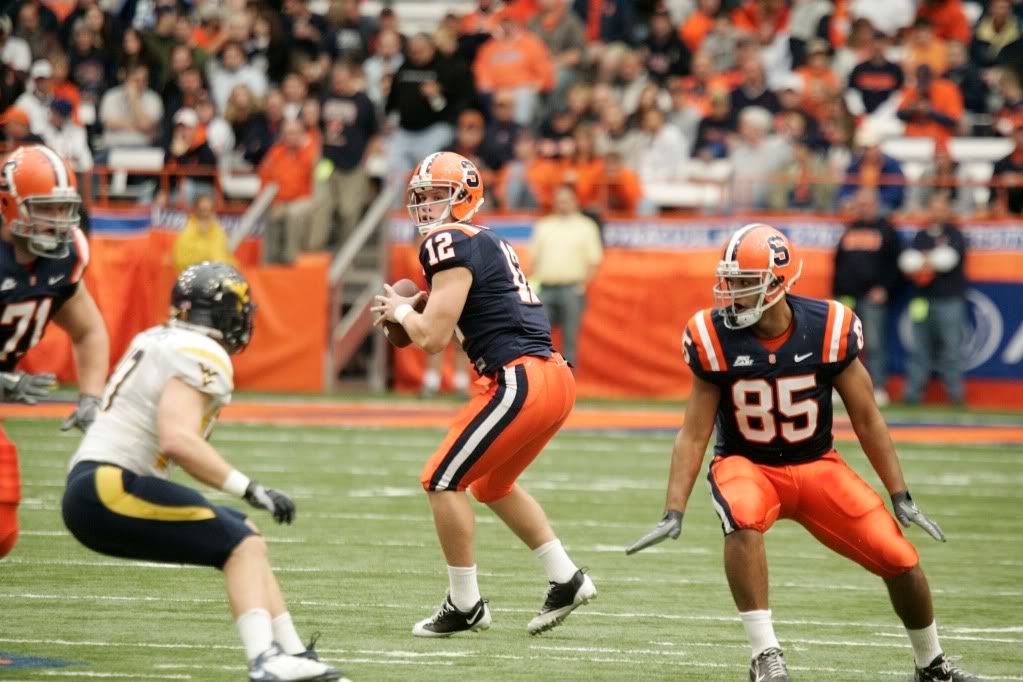 2013 will be reminiscent of 2007 as three quarterbacks will be on the final blue player depth chart. Expect Eli Manning, David Carr and rookie Ryan Nassib to occupy valuable space. Although Curtis Painter signed a reserve contract with Big Blue in January, he will be that odd man out by every stretch. There is no way the Giants let the 23 year-old Nassib sit on the practice squad to be nabbed up by another team that currently lurks to see what the G-Men do with their roster. Carr as a backup to Manning has been a bit of a superstitious good luck charm – so far. The 33-year-old has been in blue four out of the past five seasons and is experienced in the complex offensive scheme. Painter will have been in three different systems in as many years.
Head coach Tom Coughlin's reasoning for carrying only two gunslingers was one of always-preached versatility: it created an extra spot for a special teams player. Depending upon where said player lines up once the pigskin falls into possession, the ability to make a difference on specials could land an athlete as a rare 6th wide receiver or defensive back. This may very well be detrimental only to someone looking for something, anything to cling to that proverbial bubble during camps.
As we peruse the most current statistics that reflect special teams, they're better than many Giants fans would care to admit. In 2012, special teams coordinator, Tom Quinn's unit was 16th in kicking and 5th in punting. Surprisingly, the Giants only punted 58 times, but it was for an average of 47.5 yards. Thank you, Steve Weatherford. As for return units, the kickoff unit undeniably out-shined the punt return unit. The Giants were tied for 6th (with the Jets) in average/return with 26.2 yards, but 1st in the league with 1,648 total return yards. They were also tied for 1st (with the Titans) in kickoff returns with 63. Thank you, David Wilson. Big Blue may be in the midst of changing kickers, but the two difference-makers remain: who punts and who returns kicks.
Back to the quarterback situation, however; that's where things change … a little. A while ago, we here at Giants 101 said that there would come a time for the Giants to bring on (or draft) a "David Carr replacement." We already know how tough-as-nails Easy E is. Each night's prayers (especially during the regular season and the playoffs) ask for his continued Iron Man health. This organization always has backup plans, albeit usually A, B and C.
"Of course, every draft pick you want to be a Hall of Famer even though that's not the reality," Marc Ross, director of college scouting stated. "With taking Ryan, there's nothing like having a security blanket like that where we think he can be an excellent backup with the ability to start in time. Of course you want Eli Manning to play and stay healthy and be there," said Ross. "But we think Ryan has starter upside and starter ability. Whether that's here or for someone else, we don't know. Hopefully that flourishes while he's here."
No doubt. Seeing how things are already popping off in rookie mini camp, we are willing to bet it will be in blue.
Also…
Tags:
Curtis Painter
,
David Carr
,
Eli Manning
,
Football
,
New York
,
New York Giants
,
NFL
,
Ryan Nassib
,
Tom Coughlin