Ryan Nassib tried not to let the 2013 NFL Draft affect him, but he couldn't help it. Many thought he could be a first-round pick, or even a second-round pick, but he wasn't.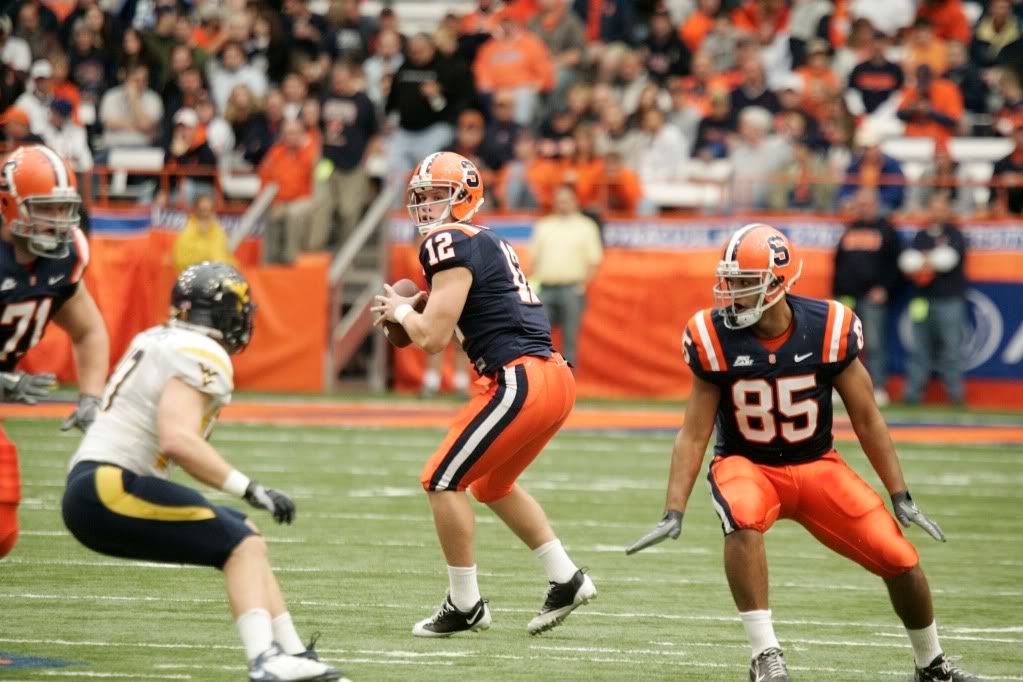 To cope with it, he didn't watch the first two days of the draft coverage, and in an interview with Michael Cohen from Syracuse.com, Nassib admits to listening to music in his car on Friday night after not being pick on Thursday night. Then, on Saturday, he headed to the gym. But s he was headed there, that's when he got the call he was waiting for; one in which it changed his life forever, as the New York Giants traded up in the fourth-round with the Arizona Cardinals to take him with the 110th overall pick in the draft.
It took the former Syracuse quarterback by surprise, but in the end, he was extremely thrilled to be coming to New Jersey.
"That was a huge surprise," Nassib said, "Because I had barely spoken with the Giants. But it was a great surprise. Getting a call from them was so exciting. I'm so happy about the situation. I can't wait to start working for them.
In several mock drafts, Nassib was thought to land with the Buffalo Bills in the first round, especially since they had just hired his former head coach from Syracuse in Doug Marrone, but instead, they chose to go with E.J. Manuel from Florida State, and the free-falling into later rounds started.
Nobody had Nassib pegged to go to the Giants because they have Eli Manning in his prime with a very suitable backup in former first-rounder David Carr.
If he had gone to Buffalo, he would have likely been the franchise quarterback, even with Kevin Kolb in the mix, Nassib would have been the guy. With the Giants, he will be a backup and only see the field in the summer when the Giants play in the preseason. For Nassib, he's quite content with that role.
"Even though I'm so much of a competitor and how much I want to play," Nassib said, "sometimes being able to take a few years to develop and really refine your game to the point so that when it is your time to play you're way better off than coming in as a rookie."
Nassib turned out to be the second player the Giants drafted out of Syracuse in last week's draft; first-round selection Justin Pugh was also a member of the school and Nassib's teammate for the Orangemen. Now, they'll get to be teammates again at the pro level.
What also excited Nassib about joining the Giants is the fact that he gets to play alongside Manning, someone he has admired and tried to emulate as a quarterback.
"There's countless things I like about Eli," Nassib said. "I've always admired him because I always saw a lot of his game in mine. I can't tell you how excited I am to learn from a guy like that, a guy who is that elite."
What started out as a draft-weekend horror, has ended up turning into a happy situation for the rookie, as he'll get a chance to learn from one of the league's best, along with getting the opportunity to play for a world-class organization that has contends for a championship quite often.
Also…
Tags:
Eli Manning
,
Football
,
Justin Pugh
,
New York
,
New York Giants
,
NFL
,
Ryan Nassib