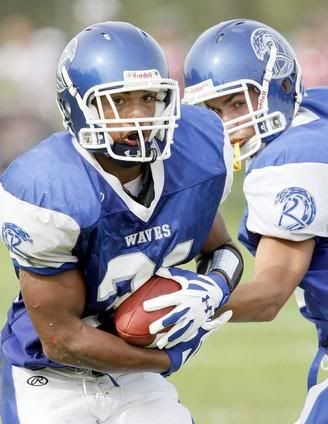 The New York Giants were among several teams in attendance at Stony Brook's Pro Day on Friday and they must have liked what they saw. Following its conclusion, the Giants scheduled a private workout with Stony Brook running back Miguel Maysonet for sometime in early April.
In addition to the Giants, Maysonet will also workout for the New York Jets in early April and the New England Patriots this coming Wednesday.
The 5-foot-9, 209 lbs. Maysonet became the first player in Stony Brook's history to attend the NFL Combine in early February. When announced in a room full of his peers, Maysonet received a standing ovation.
"That was pretty awesome," said Maysonet following the Combine's conclusion. "That was my favorite part of the combine."
Little else happened for Maysonet at the Combine as a lingering hamstring injury prevented him from participating in several of the drills, including the 40-yard dash. However, the youngster still looked at it like a solid opportunity to sell himself to all 32 NFL teams and show that he's ready and determined to play at the highest level.
"I know I can play in the NFL and have a good career," said Maysonet, who rushed for more than 4,700 yards in three seasons at Stony Brook. "I have confidence in my ability and my work ethic."
Although no a significant area of need, the Giants could benefit from drafting a young running back project in the late rounds (or signing one as an URFA) to fill out their depth chart.
Also…
Tags:
Football
,
Miguel Maysonet
,
New York
,
New York Giants
,
NFL