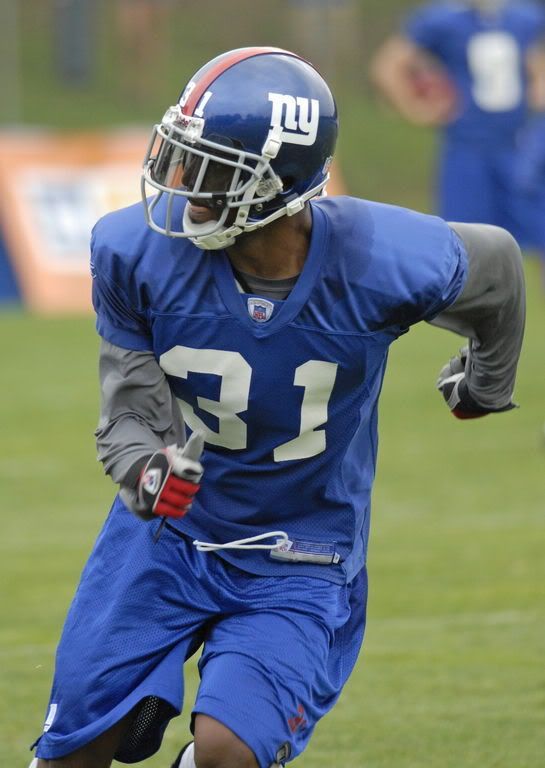 When cornerback Aaron Ross departed after 2011 to the Jacksonville Jaguars, safety Will Hill took his old number. Ross wore the No. 31 with the New York Giants from 2007-2011 and, in fact, it's the same number Ross has when he went to the University of Texas.
During his one and only season in Jacksonville, he wore the No. 31 as well
When Ross re-signed with the Giants on March 12, some wondered if he would get his old number back, or would be forced to switch. Well, as the Giants reported via Twitter, Ross will get his old number back with the Giants.
Will Hill, who wore it during the 2012 season, will wear the No. 25 in 2013.
What Ross had to give Hill in order to get the No. 31 back wasn't disclosed to the public. And it's not the first time that players on the Giants got a number they wanted from a teammate. Former punter Jeff Feagles switched his number twice while with the Giants.
When Feagles started with the Giants in 2003, he wore the No. 10, that was until the Giants traded for Eli Manning on the day of the 2004 NFL Draft. Manning got the No. 10 from Feagles and in exchange, Manning paid for Feagles and his family on an all-expense paid vacation to Florida.
Feagles switched to the No. 17 for 2004, but then the Giants signed Plaxico Burress in the spring of 2005. Burress was given the No. 17 by Feagles in exchange for the work that Feagles needed done on his house. According to Feagles, Burress never paid him for the number.
Hopefully, Ross doesn't stiff Hill on whatever agreement they came up with for the No. 31.
Also…
Tags:
Aaron Ross
,
Eli Manning
,
Football
,
Jacksonville
,
Jacksonville Jaguars
,
Jeff Feagles
,
New York
,
New York Giants
,
NFL
,
Plaxico Burress
,
Will Hill