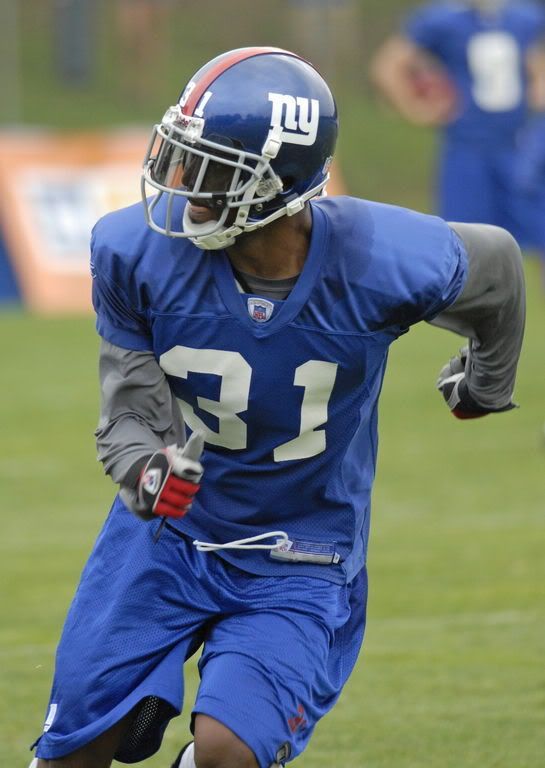 Just minutes before free agency kicked off on Tuesday at 4 PM, the New York Giants made their first move of the day by bringing back an old name. The Giants brought back former cornerback Aaron Ross on a one-year deal to add depth to a secondary that struggled in 2012.
After 2011, the Giants had to choose between Ross and Terrell Thomas, and they decided to go with Thomas on a four year deal, while Ross signed a three-year pact with the Jacksonville Jaguars. But after one season with Jacksonville, Ross was the victim of a salary cap move by the Jaguars, as he was released just a few days before free agency.
Once released, Ross had his sights set on one team; the one that drafted him in the first round back in 2007.
In an interview with Giants.com, Ross expressed how happy he was to reunite with the Giants for 2013.
"Words can not explain. I'm very excited to be back here. From the very start, I talked to Mr. (Jerry) Reese when I signed with the Jags. I told him I had a three-year contract and as soon as it's over, I'll be ready to come back home. That three-year contract ended a little earlier than I thought, and he made the call and I was more than excited to come back here. It's home. I was here for five years, this is where my career started, two Super Bowl rings. All my brothers are here, all the coaches are here. It just felt like home. I was ready to come back home.
It honestly sounds like Ross never wanted to leave New York, and it makes sense that he wanted to come back to the Giants considering he won two Super Bowls with the team in his first five seasons in the NFL.
Now back for a second stint with the team, he'll have the chance to win a third in 2013.
Also…
Tags:
Aaron Ross
,
Football
,
Jacksonville
,
Jacksonville Jaguars
,
New York
,
New York Giants
,
NFL