As head coach Tom Coughlin said following the release of Ahmad Bradshaw, Michael Boley and Chris Canty, he never wants to lose a player. He reiterated that on Tuesday while at a signing for his latest book, "Earn the Right to Win."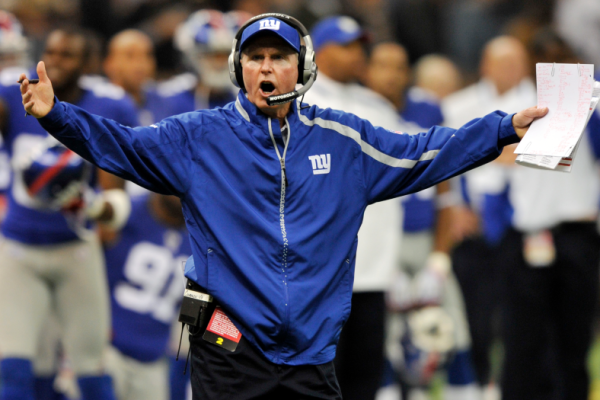 "I always look at it the other way," Coughlin said. "First of all I don't ever want to lose any player, it's not in my nature, I want 'em all, but as Ahmad [Bradshaw] said, it's a business. Change is inevitable so you approach it in such a way and try to be an optimist. Try to think about how we can help our football team through free agency, through the draft to recapture some of what has been lost, in a healthy way."
The NFL is a tricky business, and thus far, negotiations between the Giants and restricted free agent (RFA) Victor Cruz have not gone too well. Talks between the two sides were said to be "stagnant" leading into the week, but Cruz's camp got a boost on Tuesday when the Kansas City Chiefs signed Dwayne Bowe to a five-year, $56 million deal. Because of that deal, and others like it around the league, Cruz now has a leg to stand on in his demands. And although the Giants still have the leverage, waiting on the deal to get done has admittedly frustrated Coughlin, who wants the youngster back.
"Let's face it, he's had a lot of people pulling and tugging at him ever since he came into the league because of the nature of his story. … He's a great kid. It's the ability to focus and concentrate. As it's been said, there's a time for business and there's a time for production," Coughlin said. "I certainly believe he will and hope he will [be back]."
In addition to Cruz, Coughlin also expressed his desire to see quarterback David Carr return, although he understands if the veteran would prefer the opportunity to start somewhere else.
"I understand the pull and the tug and I think David Carr's been very happy here," Coughlin said. "He's left one other time due to a contract. We'll see. I would like to have him back. I like the room with he and Eli [Manning] and whoever else is in there. Don't forget there's another side to David Carr. David Carr can run, he's fast, he's athletic, no matter who we're going to play he can be the opposition's quarterback and do it very well. He does a good job of it. He runs the option."
Coughlin is likely to get one of these two things, and it will probably be Cruz on a long-term deal … sometime next year.
Also…
Tags:
Ahmad Bradshaw
,
Chris Canty
,
Dwayne Bowe
,
Football
,
Kansas City
,
Kansas City Chiefs
,
Michael Boley
,
New York
,
New York Giants
,
NFL
,
Tom Coughlin
,
Victor Cruz