Shortly before being cut by the New York Giants, running back Ahmad Bradshaw underwent another surgery to help with his chronically injured foot (see: feet). Now, with free agency rapidly approaching, the veteran back hopes to be medically cleared on Wednesday when he meets with his doctors so that he can visit and take physicals with teams.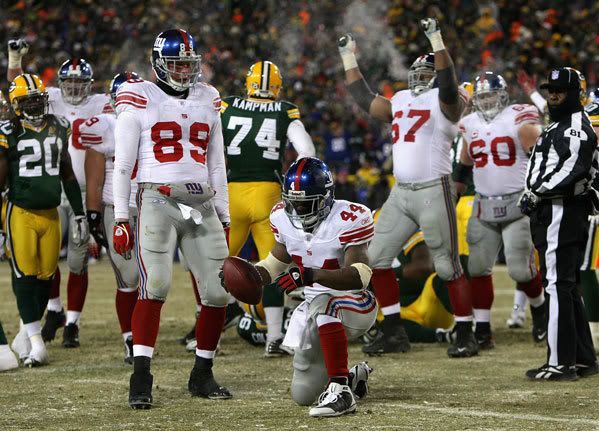 Bradshaw has left the door open for a return to Big Blue, but also expressed an interest in playing for the New York Jets or any team closer to his home and family. Thus far, the Jets have denied having any interest in Bradshaw and few other teams are rumored to be looking his way.
After being released, an emotional Tom Coughlin praised Bradshaw for his toughness, and paid him one of the best compliments an NFL player could ever receive.
"Tough. He's a young man, he's a human being, nobody's perfect, but when that guy took the field, there was never any question about what his intention was and where his intensity was and what he would bring to the table in terms of toughness, courage and how he played," Coughlin said. "The Giants organization loves Ahmad Bradshaw. We have tremendous respect for him and what he's accomplished. He's been on two Super Bowl champion teams and played the game when there would be many, many people who wouldn't even try it. [He] can't walk Thursday, but he plays on Sunday. From that standpoint, when he came down to my office, it was tough. It was very tough. I'd be less than honest if I didn't tell you that."
The market for Bradshaw will likely be thin, and should no other teams take a flier on him, there is a remote (very remote) possibility he returns to the Giants on a one-year, veteran minimum-type deal.
Also…
Tags:
Ahmad Bradshaw
,
Football
,
New York
,
New York Giants
,
New York Jets
,
NFL
,
Tom Coughlin