Earlier this week, shortly after being voted into the Pro Football Hall of Fame, retired Tampa Bay Buccaneers defensive lineman Warren Sapp chose to use his brand new pedestal to take a shot at legendary New York Giants defensive end Michael Strahan.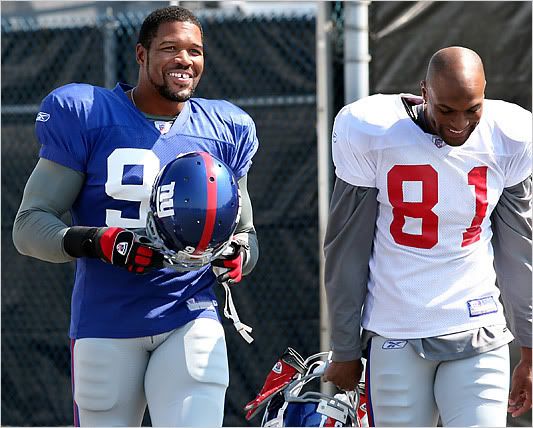 "Absolutely [I was concerned]," Sapp told WDAE in Tampa earlier this week. "Say if I rewind this to Saturday at 12 o'clock me and you are sitting and I say, 'It breaks down whatever and whatever and then you have Michael Strahan and me. C'mon, the menace and the media darling,' C'mon. Madness, or Good Morning America? I mean, c'mon."
Expecting Sapp to accept this honor with any class or dignity was foolish of anyone, especially when you consider that there's no love lost between these two. But even for Sapp, having his first order of business be a shot at Strahan was a new low. And it was something Strahan certainly didn't appreciate.
"You never cease to amaze me!" Strahan tweeted to Sapp early Friday morning. "Enjoy your moment. You don't need to take a shot at me to justify yourself to other people."
Sapp wasted no time in his reply, simply stating "you got my number!"
"You have my number, too. I'm a grown man and handle myself like one. Respect me and I respect you!" Strahan shot back.
Bottom line? If additional evidence was needed proving Strahan was more deserving of the Pro Football Hall of Fame than Sapp, this is it. As has been the case throughout their careers, Strahan has not only been the better football player, but the better man. When Sapp was voted in, Strahan offered his congratulations and accepted it like a man. On the other end of the spectrum, Sapp used it as a tool to attack a man he's always been jealous of.
Inferiority complex's are very difficult to deal with, and Sapp is obviously struggling with his.
Also…
Tags:
Football
,
Michael Strahan
,
New York
,
New York Giants
,
NFL
,
Tampa Bay
,
Tampa Bay Buccaneers
,
Warren Sapp