Many believed retired New York Giants defensive end Michael Strahan was a shoo-in for the Pro Football Hall of Fame; a first ballot "gimmie." Unfortunately, when the class of 2013 was revealed lst Saturday, Strahan's name was not among them. Instead, he sat back and watched as the names of Jonathan Ogden, Larry Allen, Cris Carter, Warren Sapp and Bill Parcells were read.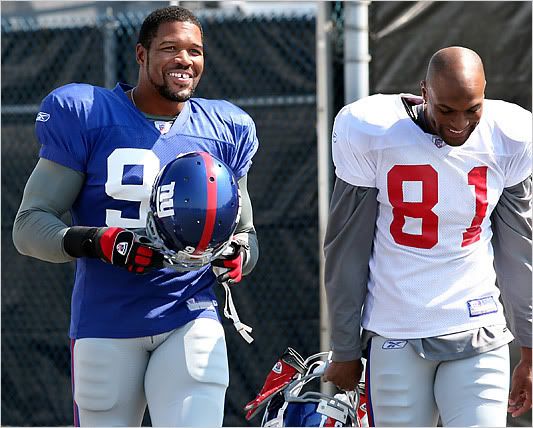 Undoubtedly disappointed, Strahan's first reaction was not one of bitterness, but of humor.
"I didn't make the Pro Football Hall of Fame this year but I did win the DirecTV Beach Bowl MVP," Strahan tweeted.
He was also quick to congratulate those who had made it in ahead of him, and described his snub as a "delayed blessing."
"Thanks for the HOF tweets," Strahan tweeted. "I love you all and I hope I eventually make it in. I look at it as a delayed blessing and I have many now!"
Leading up the announcements, several former teammates laughed at the notion of Strahan not making it in. Justin Tuck said it would be a "black, and gloomy day for the NFL" if Strahan was passed over. Meanwhile, Osi Umenyiora said there would be a lot of furniture destroyed if his friend was snubbed.
Even former teammate Shaun O'Hara took to Twitter to express his shock and disappointment.
"Still in shock that my man Michael Strahan didn't get in HOF. Best all around DE … Never came off field, played run better than any DE," he tweeted.
Despite the surprise here in 2013, it's an inevitability that Strahan is eventually elected to the Hall. It's unfortunate it didn't happen during his first year of eligibility, but like Bill Parcells before him, it's only a matter of time.
Also…
Tags:
Bill Parcells
,
Football
,
Justin Tuck
,
Michael Strahan
,
New York
,
New York Giants
,
NFL
,
Osi Umenyiora