A large part of improvement is reflecting on what is considered the past and using clear areas of need, mistakes and weakness as springboards to a plan – a plan that should yield a more desirable or exceptional state. In the case of Jerry Reese, Tom Coughlin and the New York Football Giants, this end product or state will always be a Lombardi trophy.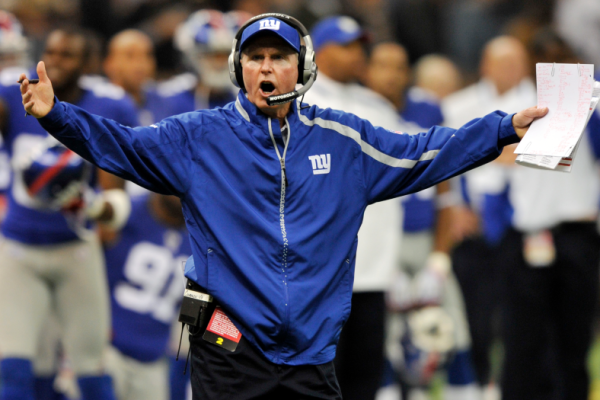 The 2012 Big Blue season didn't produce anything near a 'chip goal. It's January -playoffs time- and they're searching for some points to bulletin in the design for 2013. As much as looking back is frowned upon in sports, it can be a handy tool to utilize when not only preventing mistakes, but creating a blueprint for welcome changes.
1978 was ugly for the Giants franchise, but it was one of many catalysts that occurred in the organization that pushed the proper tweaks to be made. Herm Edwards' fumble recovery was only a piece of a convoluted puzzle that year that led to blue transformation. The following year, the Giants finally assigned an outside General Manager, George Young, and Bill Parcells became part of the Giants as Defensive Coordinator. Players like quarterback Phil Simms were drafted in 1979. Linebacker Lawrence Taylor followed in 1981. Eventually, Parcells became head coach and well, if you aren't quite sure of his tenure in a Giants sweater, read up on it. He's up again for the Hall of Fame this year and all Giants fans should know why. The point here is that not one, but two Lombardi trophies came to the G-Men because of change.
It almost happened again after Coach Parcells "retired" in 1991 and fans endured two vomit-inducing Ray Handley years into almost a handful of Dan Reeves years: Jim Fassel ('97-'03) and getting to a point where Giants football was again fun to watch (to a fine line extent) and the World Championship game billing had the New York Giants' logo on half of it in 2000. They didn't "finish" that year and were accused of quitting on Fassel in 2003 – a year after they collapsed in the Wild Card Playoffs against the San Francisco 49ers.
Fassel's 4-12 season and subsequent firing gave way to much of what we have today: Tom Coughlin, Eli Manning, eventually Jerry Reese and a model that continually calls for corrective action. Since these three names have come together, there have been some gaffes, but they have led to alterations that keep the team competitive. Where we sit as disappointed fans now isn't much different than where we were in 2010. That focus was just primarily on the "New Miracle in the Meadowlands" and making Punter Matt Dodge the scapegoat. As painful as that was, it brought forth an awesome signing in 2011 free agency: Punter Steve Weatherford, who was a large part of how Lombardi number four was earned (he did, after all, set a Super Bowl record). Yeah, other cogs were placed with their respective mechanical gears, but the point here is one example of how to view errors as spur for correction. It isn't always just one.
While a coaching change may not be on the immediate Big Blue horizon, what is coming can be construed as veritable improvement in the eyes of Tom and Jerry since they haven't stopped working at it yet.
Also…
Tags:
Bill Parcells
,
Dan Reeves
,
Eli Manning
,
Football
,
George Young
,
Jerry Reese
,
Jim Fassel
,
Lawrence Taylor
,
New York
,
New York Giants
,
NFL
,
Phil Simms
,
Steve Weatherford
,
Tom Coughlin