New York Giants head coach Tom Coughlin may not put the pads on every Sunday and run out there with his players ready to take on the opposing team, but there's no denying he has a warriors mentality. That's why it should come as no surprise that he's a lost man right now. No playoffs. No chance to defend his title. Nothing to look forward to but a long offseason.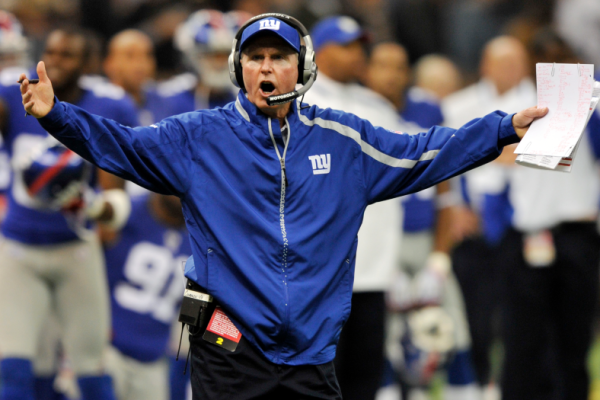 "I can't even describe how it hurts," Coughlin said during a WFAN interview on Thursday. "I don't know what to do. I'm walking around here like a crazy man. I am. I don't know what to do with myself. We shouldn't be doing this right now."
With nothing left to do, Coughlin and his staff have already begun to breakdown film of the past season. It's in strong contrast to that of New York Jets head coach Rex Ryan, who has beached himself in the Bahamas … sporting a brand new tattoo of his wife in nothing more than a Mark Sanchez jersey. But we digress…
Coughlin still has no answers, and that doesn't sit well with him. In fact, it has only compounded the issue to the point where the coach has no way to properly describe how he's feeling. Hint: it's not pleasant.
"The pain of it is almost indescribable. Because your expectations are so high and as a matter of fact it drives you because of the opportunity that you have. The thing that's most difficult to deal with is losing, and then being out of it. It's difficult to describe," Coughlin said.
For the first time all year, Coughlin also acknowledged that there may have been some emotional letdown by his team. He stopped sort of saying the passion and desire wasn't there, but admitted it may be the only logical explanation for some of their performances. Namely against Cincinnati, Atlanta and Baltimore.
"Naturally that crosses your mind," Coughlin said. "I never thought that was going to be an issue with our team, I really didn't. But we certainly left a few holes in our schedule."
Whatever the case may be, Coughlin's candid responses prove one thing: he's the right man for the job. This is a man who clearly wants to win, and when he doesn't, wants answers so that he can fix the problem. There's not much more you can ask for in your head coach.
Also…
Tags:
Football
,
Mark Sanchez
,
New York
,
New York Giants
,
New York Jets
,
NFL
,
Rex Ryan
,
Tom Coughlin