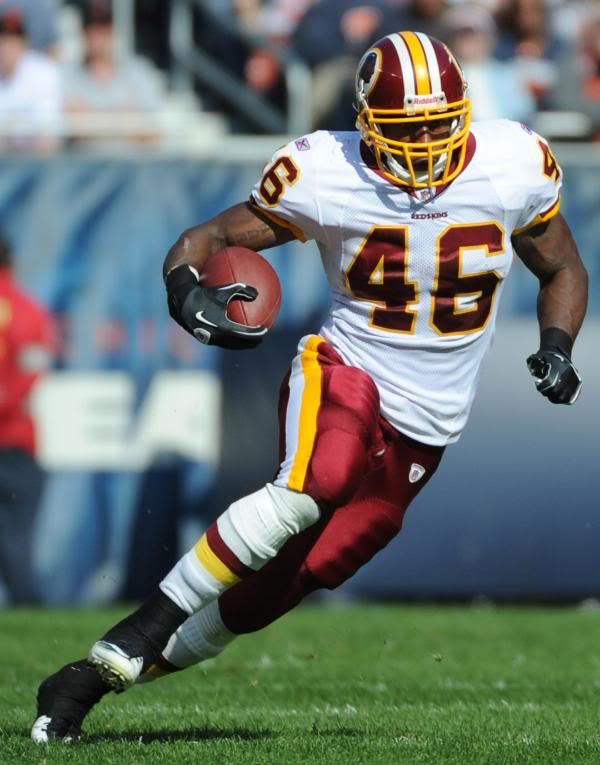 Although the New York Giants are not dealing with the devastating rash of injuries that plagued the team in previous years, Big Blue still has a few holes on their roster that could use some help. With Ahmad Bradshaw's health in doubt, the Giants brought in a slew of free agent running backs earlier this week for private workouts. The only initial name released among those players was former Indianapolis Colts standout tailback Joseph Addai. However, today we learned that the list of players was significantly longer and had at least one more intriguing name.
Joseph Addai, James Carmon, Bubba Forrest, Dante Hughes, Kregg Lumpkin, Trumaine McBride, Mewelde Moore, Curtis Painter, Ryan Torain, and Jabara Williams all worked out with Big Blue. The Giants are in the midst of their bye week, so there is no better time to take a look at what is left on the free agent scrap heap.
Besides Addai, the most accomplished name on that list is running back Ryan Torain. Torain made a name for himself in 2010 with the Washington Redskins. Although he fell victim to Mike Shanahan's running back by committee system, Torain averaged 4.5 yards per carry for the Redskins. However, his statistics dropped significantly in 2011 and Torain was passed unclaimed through waivers at the end of the season.
The Giants' sudden fascination with trying out damaged goods for depth at running back should have fans concerned with the health of Ahmad Bradshaw. Bradshaw has a neck injury that may force him to miss some time. With Andre Brown and David Wilson both lacking experience in the backfield, Big Blue may need to sign a veteran to help carry the load.
The team also took a look at cornerbacks Dante Hughes, Trumaine McBride and Bubba Forrest. With Michael Coe on the injured reserve, the Giants may be looking to add another cornerback for depth and for special teams purposes. Hughes spent part of training camp with the Giants, so his knowledge of the defensive system would make him the favorite.
Big Blue has not yet signed any of these players. Furthermore, there is a good chance they never will. It's not unusual for teams to have workouts and leave without signing a single person. However, the Giants have a roster spot to fill after placing Markus Kuhn on the season ending Injured Reserve (IR). So there is a good chance that we will see the team sign someone before they begin preparations for the Green Bay Packers next week.
Also…
Tags:
Ahmad Bradshaw
,
Andre Brown
,
Dante Hughes
,
David Wilson
,
Football
,
free agent
,
Green Bay
,
Green Bay Packers
,
Indianapolis Colts
,
Joseph Addai
,
Markus Kuhn
,
Michael Coe
,
New York
,
New York Giants
,
NFL