With Chase Blackburn likely sidelined with a hamstring injury, the future is now for the New York Giants. The USA Today reports that Mark Herzlich is expected to start at middle linebacker for Big Blue on Sunday when they face off against the Pittsburgh Steelers.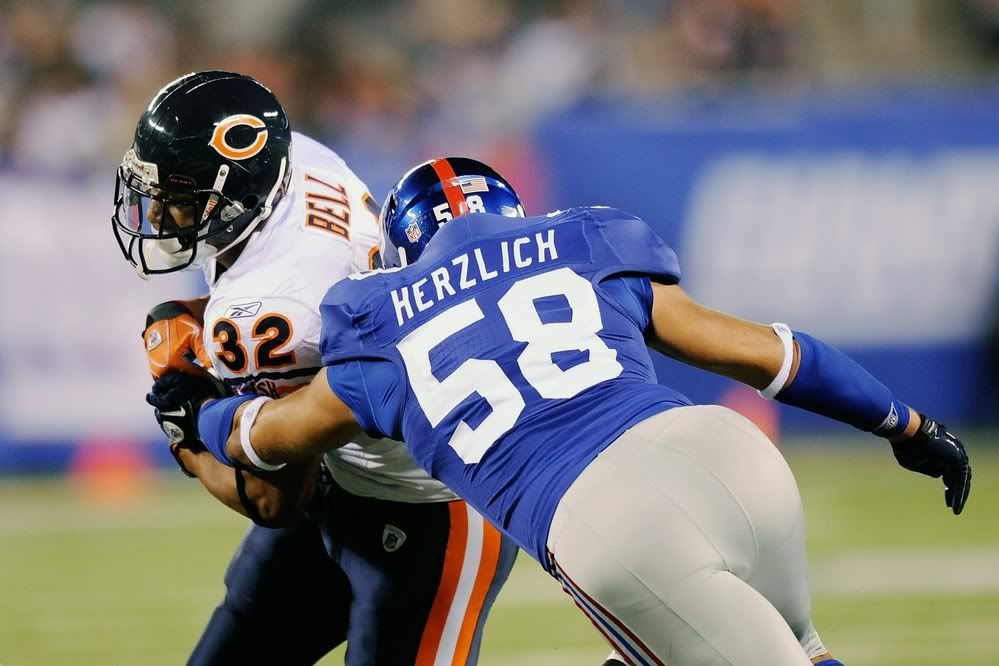 Head coach Tom Coughlin all but admitted last week that #58 is being groomed for the starting role; that he's the middle linebacker of the future. However, he also made sure to note that he's learning from one of the smartest guys on the field.
"I think Mark will be a good middle backer going forward because he's learning from a good one," Coughlin said. Adding that Blackburn is "most difficult" to force out of the starting job. "His acumen is so sharp. He takes great pride in the communication part of it. Mark has learned a lot from Chase."
Granted, this is a little sooner than the Giants would have liked Herzlich to start, but injuries have a way of forcing things into motion. As they say in New York, "next man up!"
Herzlich will be filling a very important role for the Giants on Sunday, and it will be interesting to see how it plays out. They may opt to have Michael Boley controlling the communications as opposed to Herzlich, who has played primarily on Special Teams this season.
So far this season, Herzlich has seven tackles with the majority of those coming on Special Teams.
Also…
Chase Blackburn
,
Football
,
Mark Herzlich
,
Michael Boley
,
New York
,
New York Giants
,
NFL
,
Tom Coughlin
Related Videos
Returning Soon!!!!
No related posts.