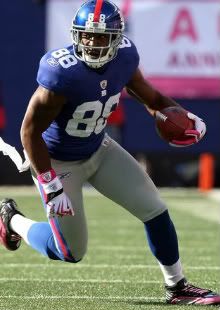 The New York Giants dropped their season opener to the Dallas Cowboy's in disappointing fashion. Although Big Blue has gone on to a 5-2 record through seven games in 2012, there is still a sour taste in their mouths regarding their embarrassing week one loss to their divisional rival. Tony Romo and the Dallas Cowboys offense were able to have their way with a banged up Giants secondary and came away with a win. However, wideout Hakeem Nicks was not at full strength in week one and he feels his impact was missed.
Nicks caught four passes for 38-yards in Big Blue's first matchup with Dallas. However, it was his first full game action after undergoing offseason surgery on a broken fifth metatarsal in his right foot. While he was not completely ineffective, Nicks had trouble making plays down the field. However, No. 88 says that after coming back and playing against the San Francisco 49ers and Washington Redskins, he is starting to feel as if he can have a bigger impact.
"I'm a lot healthier now. Especially in the last couple of weeks I feel like I finally got over the little hump," Nicks said. "The last game I feel like it broke me in a little more in the foot and the knee. Today was a great practice for me. I feel like I got back to myself a little bit. I feel like I was getting in and out of my routes and having that full confidence back. I think it will be a great week for me."
After missing three games so far through 2012, Nicks' numbers are not where most would have predicted. As Big Blue heads to Week eight, the Nicks only has one touchdown on the season. At no point has he ever been fully healthy. However, on Wednesday, Nicks went through a full practice for the first time this season. He's coming along slowly, but surely.
Eli Manning has also noticed an improvement in Nicks' health. Although Eli has played well with just about ever receiver the Giants have put on the field this season, it would be extremely beneficial to have Nicks back fully healthy to provide another deadly weapon to Manning's arsenal.
"I saw a different burst, running differently," the quarterback said. "I think he's getting more confident and trusting everything and feeling better, so that's always good for us."
Despite being decimated by early injuries, the Giants are no longer one of the NFL's most banged up teams. That distinction goes to the Dallas Cowboys, who will play this weekend without DeMarco Murray, Sean Lee, and Phil Costa. Things seem to be looking up for Big Blue and it should continue on Sunday in Dallas.
Also…
Dallas
,
Dallas Cowboys
,
Eli Manning
,
Football
,
Hakeem Nicks
,
New York
,
New York Giants
,
NFL
,
San Francisco
,
Tony Romo
,
Washington
,
Washington Redskins
Related Videos
Returning Soon!!!!
No related posts.