We wrote after last week's game that the New York Giants injury situation was on the up-and-up, and while Friday's injury report still had a few big names on it (Ahmad Bradshaw, Kenny Phillips, Rocky Bernard), a closer examination confirms that the Giants are healthier than they've been all season.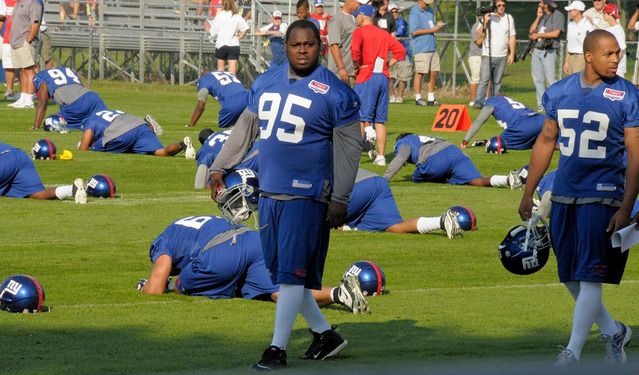 Don't believe us, let's take a look:
Bradshaw, as we all know, got his foot stepped on last week and is sore. But this guy has a long history of missing practices to manage his perennially achy feet and he said himself he's good to go Sunday, so we're not worried.
Phillips is the last remaining big ticket player missing in action; the only starter expected to miss this week's game. A big loss, to be sure, but they've played well in his stead and he's on the mend. That the team's biggest injury is likely only a few weeks away from returning is the biggest indicator that the injury situation is under control for now.
Bernard, one might say, is also a starter who may not play this week. Like Phillips, though, Bernard's injury is not considered longterm. Besides, with Chris Canty scheduled to come off the PUP list anytime now and Mathias Kiwanuka seeing snaps at DE and DT, it's unlikely that from here on out Bernard will be anything more than the rotational role-player that he was supposed to be anyway.
Also out Sunday are Jacquian Williams and Da'Rell Scott. Williams is a productive special teamer and rotational linebacker, but his loss is far from fatal for this defense and we've heard no reports that his injury is longterm. Scott had minor knee surgery to repair a meniscus tear, but he never sees the field anyway. Michael Boley is questionable, but he has been all season despite playing.
Most importantly, look at the list of names not popping up under OUT, DOUBTFUL or QUESTIONABLE ON injury reports anymore?
Hakeem Nicks is the big one (while we're still a bit uneasy that he didn't look himself last week, he apparently is progressing on schedule). Keith Rivers, who should see an expanded role with Kiwanuka playing on the line again, is another. Andre Brown and Ramses Barden have been cleared to return from concussions, Chris Canty should be returning from the PUP, and we haven't heard anything about any offensive linemen or the knees of Antrel Rolle or Martellus Bennet in a while. Unbelievably, not a single cornerback will be out this weekend with Corey Webster is listed as probable. Same goes for the wide receivers, for that matter, who should also be all hands on deck.
We just wrote a lot of words to basically make one point: good news almost all the way around.
Also…
Ahmad Bradshaw
,
Andre Brown
,
Antrel Rolle
,
Chris Canty
,
Football
,
Hakeem Nicks
,
Jacquian Williams
,
Keith Rivers
,
Kenny Phillips
,
Mathias Kiwanuka
,
New York
,
New York Giants
,
NFL
,
Ramses Barden
,
Rocky Bernard
Related Videos
Returning Soon!!!!
No related posts.