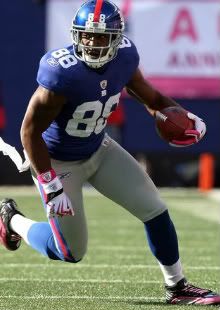 Running back Ahmad Bradshaw said earlier this week that he expected wide receiver Hakeem Nicks to play on Sunday against the San Francisco 49res, but no official word had come from the team. His status for Sunday would be largely determined by his availably to practice on Thursday, which had become his normal routine prior to injuring his knee. So when the New York Giants took the field this afternoon, all eyes were on #88. And there he was … in pads, warming up and participating in the jog through.
In addition to Nicks (knee/foot), wide receiver Ramses Barden (concussion), cornerbacks Jayron Hosley (hamstring) and Corey Webster (hand/hamstring), linebackers Keith Rivers (hamstring), Chase Blackburn (hip) and Michael Boley (hip), tackle David Diehl (knee), safety Antrel Rolle (knee) and tight end Martellus Bennett (knee) were also practicing on at least a limited basis.
Meanwhile, for running back Andre Brown, he has yet to pass the baseline concussion test and was not practicing. He is likely out for Sunday's game.
Also sitting out were defensive tackle Rocky Bernard (quad) and Kenny Phillips (knee).
Phillips being shut down a day after doing some running is a likely indicator that he's not quite ready yet, and will be sitting out for at least one more week.
Also…
Andre Brown
,
Antrel Rolle
,
Chase Blackburn
,
Corey Webster
,
David Diehl
,
Football
,
Hakeem Nicks
,
Jayron Hosley
,
Keith Rivers
,
Kenny Phillips
,
Michael Boley
,
New York
,
New York Giants
,
NFL
,
Rocky Bernard
Related Videos
Returning Soon!!!!
No related posts.