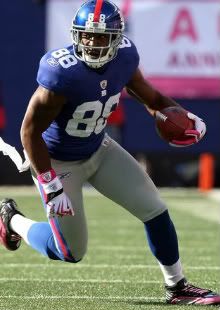 New York Giants wide receiver Hakeem Nicks has not been completely healthy for the entirety of Big Blue's 2012 campaign. After injuring the fifth metatarsal in his right foot during mini-camp, Nicks has been experiencing swelling in his knee after injuring it against the Tampa Bay Buccaneers. He has missed the Giants last three games.
Eli Manning and Co. have been productive in Nicks' absence. Ramses Barden has shown some life, Victor Cruz has developed into a red zone threat, and rookie Rueben Randle broke out with six receptions for 82 yards against the Cleveland Browns last Sunday.
However, the Giants are facing a formidable opponent in the San Francisco 49ers in Week six. The 49ers currently rank second in the NFL in total defense, allowing just 262.6 yards per game. The Giants are going to need all the help they can get against San Francisco's defense. However, running back Ahmad Bradshaw said in an interview with ESPN Radio that Nicks gave him an indication that he would return to the field this Sunday.
"I think he'll be here this week." Bradshaw said. "He seemed to give me a hint that he would be."
The Giants are sorely missing Nicks' physical presence on the outside. Although Big Blue's passing attack looked great against the likes of Carolina and Cleveland, the 49ers will be far and away the best team the Giants are to play so far through 2012. Having Hakeem Nicks will create matchup problems in the 49ers secondary, and could allow for Victor Cruz to go to work on 49ers cornerback Carlos Rodgers over the middle of the field.
With that, the Giants have established a more balanced offense this season. Big Blue is averaging around 120 yards on the ground through six games, which is significantly better than the 89 yards the team averaged on the ground per game a year ago.
The presence of Hakeem Nicks will force the 49ers to play more attention to the perimeter, which could open up rushing lanes for Ahmad Bradshaw, Andre Brown, and David Wilson. That said, Bradshaw still holds that Nicks will not be rushing back from his most recent injury.
"Hakeem will be back and he'll be 100 percent when he does" come back, Bradshaw said. "He's just being careful and just taking his time. He wants to come back and be that playmaker he's always been with all he can and he doesn't want to come back and be missing game-in, game-out. I think he's just being precautious about it, but I think he'll be fine."
It's important to take these comments with a grain of salt. Hakeem Nicks has not practiced this week, nor did he step on the field at all last week. Head coach Tom Coughlin has given no indication that Nicks' condition has improved. Furthermore, it makes no sense for the Giants to tip their hand that their number-one receiver could be returning this week. While it's entirely possible that Bradshaw is telling the truth, we will not know for sure until Sunday.
Also…
Tags:
Ahmad Bradshaw
,
Andre Brown
,
Carlos Rodgers
,
Cleveland Browns
,
David Wilson
,
Eli Manning
,
Football
,
Hakeem Nicks
,
New York
,
New York Giants
,
NFL
,
Ramses Barden
,
Rueben Randle
,
San Francisco 49ers
,
Victor Cruz