The New York Giants lost a tough game to a solid Philadelphia Eagles team on the road last night. It was a devastating loss because the Giants are now 0-2 in the division, which could potentially come back to haunt them in the even of a tie-breaking scenario at the end of the season. However it wasn't all bad last night.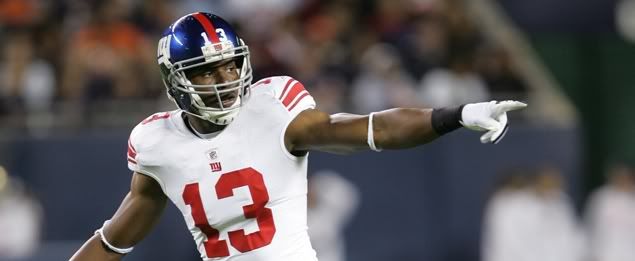 Giants wide receiver Ramses Barden continued showcasing his effectiveness throughout the game. Although Barden only caught two balls for 36 yards, he drew two big pass interference calls on the Eagles at the end of the game. He proved to be a viable target through the air for the Giants for the duration of the game. However, Barden night was defined by an offensive pass interference call the knocked Lawrence Tynes out of field goals range, which cost the Giants the game.
"It was tough. I don't know. I've got to go watch the play," Barden said. "He had decent position. I'm trying to make a play. I guess I got my arm on him. I was trying to get to the ball, I was trying to break up an interception. I want to be the one to make a play, and nobody else. Nobody on defense, at least.''
Eli Manning threw a ball up to his 6'6" wideout in single coverage in an attempt to guarantee a Giants victory. It was a risky, yet potentially beneficial proposition that did not work out. The ball was overthrown, Barden had no choice but to make sure Eagles' corner Nmamdi Asomugha didn't intercept it.
After the game, Eli Manning didn't regret the decision, as much as he regretted the poor throw he made to the Giants young wideout.
"I should've thrown a better ball or a different ball and not put Ramses in that situation with the defense over the top of him," said Manning. "I probably shouldn't have thrown it where I did so he was put in that situation where he has to pass interference so the ball's not intercepted."
The Giants had the ball with under two minutes left and all they needed was a field goal to win. They were playing a road game, shorthanded against a good football team. Eli Manning and Co. did not have enough to get it done last night, but it's not time to panic yet. It's a long season, and this team has the ability to play with anybody. Needless to say, next weekend against the Cleveland Browns is a huge matchup.
Also…
Eli Manning
,
Football
,
Lawrence Tynes
,
New York
,
New York Giants
,
NFL
,
Philadelphia
,
Philadelphia Eagles
,
Ramses Barden
Related Videos
Returning Soon!!!!
No related posts.