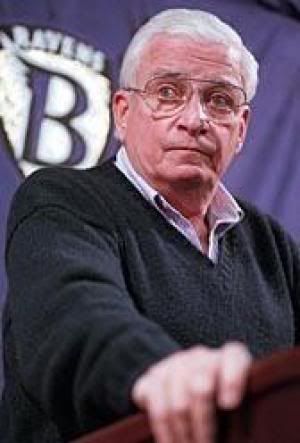 Art Modell, legendary owner of the original Cleveland Browns and then Baltimore Ravens, passed away on Thursday at Johns Hopkins Hospital in Baltimore. He was 87.
Innovative and driven, Modell was instrumental in the expansion of the NFL both geographically and socially, as he represented NFL owners in negotiations that would eventually lead to televised Sunday (and later, Monday) football as we know it today. It was a deal that generated the league upwards of $8.4 billion and gave fans televised access to multiple games weekly.
A long-time friend to the Mara family, New York Giants President and CEO John Mara released a statement on Modell's passing.
"Art Modell was one of the greatest owners in the history of the NFL,'' Mara said. "He contributed in so many ways to the success of this League and he deserves a place in Canton. More importantly, he was a decent man and a great friend to my family. We will miss him dearly."
Although Modell will be most famous remembered for temporarily "retiring" the Cleveland Browns and birthing the Baltimore Ravens, the NFL as we know it would not have been possible without his influence.
Giants 101 would like to extend their condolences to both the family and friends of Mr. Modell.
Also…
Tags:
Art Modell
,
Baltimore
,
Baltimore Ravens
,
Cleveland
,
Cleveland Browns
,
Football
,
John Mara
,
New York
,
New York Giants
,
NFL