The New York Giants are defending Super Bowl XLVI champions. They've won two Lombardi Trophy's since the 2007 season. And they're 7-2 against the Dallas Cowboys in their last nine meetings. However, after linebacker Mathias Kiwanuka recently reminded Dallas Cowboys owner Jerry Jones that they've been "whupping his ass" for a long time now, opposing linebacker DeMarcus Ware said Big Blue needs to step up and "walk the walk."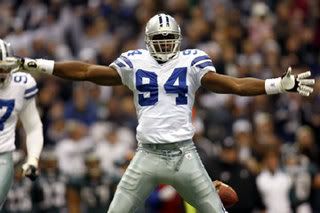 "When you think about when players talk, you got to walk the walk," Ware said. "Every year starts off as a different year. You got to get out there and do the same thing over and over again and be consistent. You know, this year we're a different team and we're going to see how it pans out this year."
Between the Cowboys and the Philadelphia Eagles, it's like a broken record or an MP3 player stuck on repeat: "This year is different." "This year is our year." "Giants can't do it again."
The irony here is that Kiwi didn't tell Jones they will continue "whupping his ass," merely that they have been "whupping his ass" for years following the owner's proclamation that the Cowboys will "beat the Giants' ass" in 2012.
Envy is a very powerful thing, and the Cowboys are anxious to break loose from the shadows – to find their "glory hole" if you will. But if the New York Football Giants have anything to say about it, they'll continue walking the walk all the way to a third Super Bowl championship in six seasons.
Also…
Tags:
Dallas
,
Dallas Cowboys
,
DeMarcus Ware
,
Football
,
Jerry Jones
,
Mathias Kiwanuka
,
New York
,
New York Giants
,
NFL
,
Super Bowl XLVI