Will Hill has faced a tumultuous last several seasons in his football career. In 2010, he was suspended from Florida University and then went undrafted in 2011. Last season he had to settle for playing for the Arizona Rattlers of the Arena Football League. But now he has finally made it in the NFL as a member of the New York Giants after surviving the final roster cuts, proving hard work does pay off.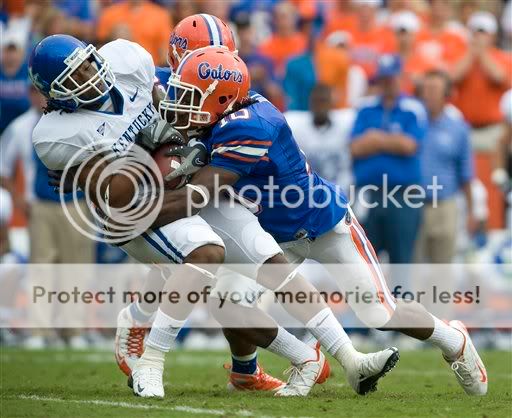 Hill first received some recognition after attending a rookie mini-camp in East Rutherford, eventually earning a minimum deal contract with no guaranteed money. He went on to shine in training camp and throughout the preseason, finishing with 14 tackles – ranking him third on the team.
The safety not only impressed on the field, but also put in timeless hours watching film to improve his technique and remember assignments. This is something the Giants' coaches took notice of, which ultimately helped him to earn his roster spot. And it looks like that off-field work is already carrying over. Hill has been arriving to the practice facility three hours early so that he can get some extra time to study the gameplan, he told Pat Traina of Inside Football.
"I wanted to get ahead of everyone else because everyone else is a veteran so they already know the deal, so I just tried to prepare myself as best as possible," Hill said.
Hill knows that making the team is only the first step to becoming successful in the NFL. He is prepared to put in the hard work that is necessary to ensure he remains an NFL player.
"I have to go out there and get better now – gotta go out there and grind and not make then regret their decision to keep me. Right now it's a job, so go in and take every day like it's a job and work, and that's it. I'm happy but then again I'm not because I still have to go out there every day and work and prove myself every day," he added.
Hill is one of four safeties to make the final roster including Kenny Phillips, Antrel Rolle and Stevie Brown (Tyler Sash will not count towards the roster because of suspension). With the injuries at the corner back position, Hill is also expected to see time as the nickel back.
Giants 101 Hall of Fame Re-Opens
As the season begins, we have decided to re-open the Giants 101 Hall of Fame and seek the next round of inductees. James Douglas (JD in Dallas) will be inducted into the Frank E. Kurczewski wing, while we will begin seeking nominees for the other two wings right now.
The Jonas Seawright wing is for players who were extremely hyped by the members here at Giants 101 before ever producing on the field. Inevitably, these players would fail to live up to said hype for whatever reason.
The Tim Carter wing is for players who flashed mightily during training camp and preseason(s), and were equally hyped here on Giants 101, but could never quite make it due to constant injuries.
No current players will be accepted nominees. Begin making your picks now!
Also…
Antrel Rolle
,
Football
,
Kenny Phillips
,
New York
,
New York Giants
,
NFL
,
Stevie Brown
,
Will Hill
Related Videos
Returning Soon!!!!
No related posts.