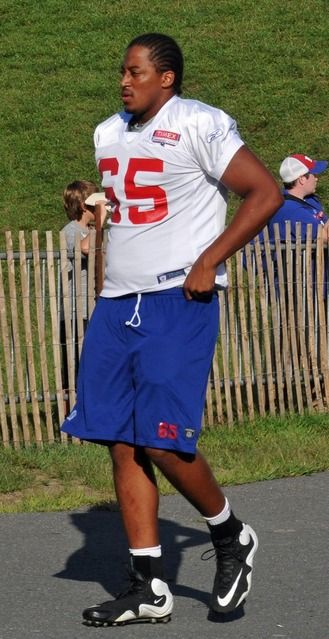 Today, New York Giants defensive tackle Marvin Austin publicly stated that his back injury was relatively minor. However, head coach Tom Coughlin is concerned about Austin, perhaps more so than the second year player out of North Carolina is about himself.
Following an afternoon practice, Coughlin elaborated on the condition of Marvin Austin's back.
"They're doing more tests," Coughlin said. "He said he felt pretty good today. A lot of the early symptoms are no longer there. But they're going to do another set of tests on him. We're hoping that within a reasonable amount of time he can come back and play."
Although Austin was already ruled out of the team's second preseason matchup against the New York Jets, there is suddenly an increased level of uncertainty regarding his ability to get back out onto the field. After missing his last two football seasons due to various issues, Austin was hoping to come back and contribute in 2012. With Shaun Rogers out for the season, and Chris Canty's return uncertain, it's still entirely within the realm of possibility that Austin comes back and contributes this season.
However, with the amount of time he has missed, it would be extremely hard for Austin to be anything more than a depth player at this point. Hopefully he proves that wrong.
Also on the injury note, starting left tackle Will Beatty has been "shut down" again due to a back issue. This is not good news considering this injury has been lingering for quite some time, and does not seem to be healing at the rate the team had hoped.
"[Team doctors] evaluated him last night and they felt if he kept going along the way he is now, he only would've gotten worse and worse," Coughlin said.
At some point, the Giants will have to bring in a veteran offensive tackle as insurance.
Also…
Chris Canty
,
Football
,
Marvin Austin
,
New York
,
New York Giants
,
New York Jets
,
NFL
,
North Carolina
,
Shaun Rogers
,
Tom Coughlin
,
Will Beatty
Related Videos
Returning Soon!!!!
No related posts.