Will Hill was widely considered the top safety prospect, and second overall football prospect by ESPN coming out of St. Peters Preparatory High School in New Jersey. He was recruited to the Florida Gators where it appeared he had lost focus on playing football causing his production on the field to fall off greatly. After a couple of lackluster seasons, he would leave Florida early to enter the NFL Draft.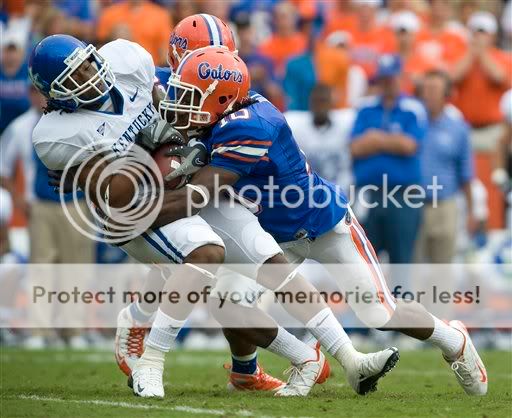 Although he certainly possessed the physical tools, NFL teams were unwilling to take a chance on him, questioning whether his head was in the game, resulting in him going undrafted. After missing out on football last season, the New York Giants have given him a chance to prove that he has the heart and ability to play in the NFL. It appears Hill is taking complete advantage of the opportunity the Giants have given him, as he has impressed the coaches making plays all over the field.
It was believed that Hill was originally brought in to raise the level of competition among the young talent and the veterans, but now the coaches find themselves leaving him on the field more than they originally thought. Hill has shown great athletic ability, excellent coverage skills, but most importantly, he has shown the drive to succeed that he lacked during his days at the University of Florida.
Coach Coughlin has taken notice of Hill's athletic body and his play making ability.
"You see a real quick, well-conditioned athlete right now. He's definitely had a couple of days where he's stood out and he stands out on (special) teams, too."
It has become a well known fact that Coughlin loves for his young players to prove themselves on special teams, which could be critical if Hill is going to earn a spot on the roster.
What could also help Hill's cause is his ability to play the linebacker/safety hybrid position that Perry Fewell utilizes often. It is the same position that veteran Deon Grant was used for. There has been speculation the Deon Grant would be called to rejoin the Giants for another season but that has not yet been the case. Perhaps Hill's exceptional play could be why Grant hasn't yet been brought back.
Hill knows that he has a lot to prove, and that shows on the practice field. He told Mike Garafolo of the Star-Ledger why he's giving the extra effort.
"Yeah, I play with just a little bit more oomph because I had dark times," he said. "I know what's on the other side and I don't want to go back. … I have the mentality of, because I wasn't drafted, I have to prove myself to not only the coaches but also the players that I belong here. So that's how I just go out every day and attack it full-on."
Will has been putting in the work off the field as well, spending his off time studying tape and taking advice from his coaches. Overcoming his past personality issues will be his biggest obstacle but right now he is doing everything a player in his situation has to to prove he has the ability to keep football a top priority. He will be given an opportunity to show off his talents Friday in the team's first preseason game, but as of now, Hill is making the most of his opportunities.
Also…
Deon Grant
,
Football
,
New York
,
New York Giants
,
NFL
,
Perry Fewell
,
Tom Coughlin
,
Will Hill
Related Videos
Returning Soon!!!!
No related posts.