For the majority of cancer patients, beating the disease means simply just staying alive. However, for New York Giants linebacker Mark Herzlich, defeating cancer meant having a successful NFL career, despite being diagnosed with Ewing's sarcoma after his junior season at Boston College.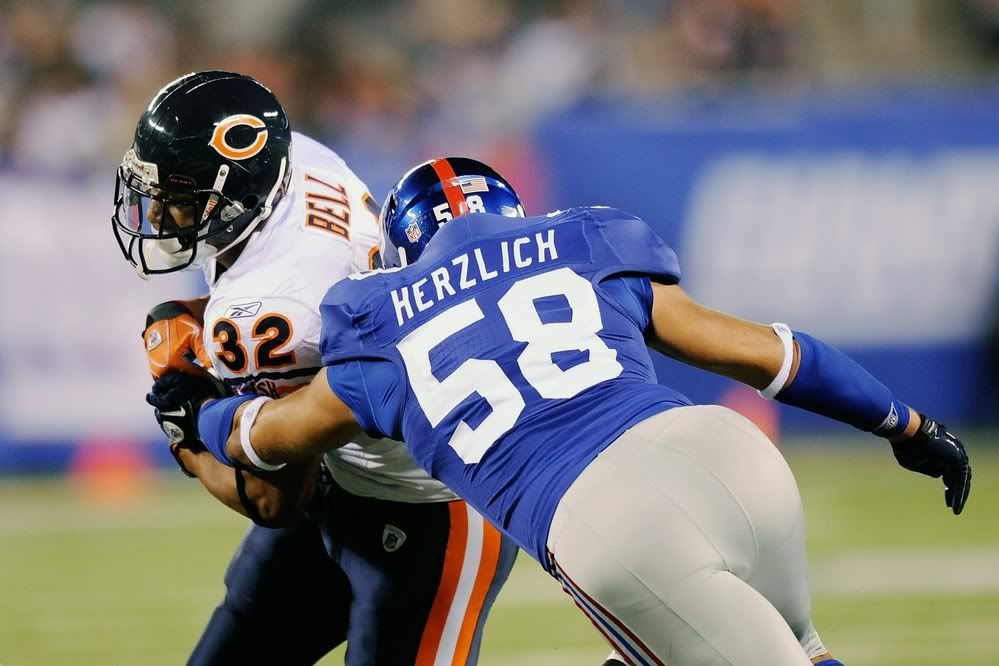 Fortunately, after an intense five-month battle, Herzlich's cancer was in remission, and he was poised to begin preparing for his final year of collegiate football. Before his cancer diagnosis, Herzlich was projected as a first-round draft pick. However, after cancer, he was bypassed in all seven rounds of the draft. For some people, that would mean the end of their career. But Mark used it as motivation to once again prove everyone wrong. After the 2011 NFL Draft, he reacted with the same defiant, heroic attitude that helped him overcome cancer.
"It was a disappointing and tiring day. It got to the point when I just felt like things were turning against me and tried to just keep my head up. Apparently people are saying I can't play football. Well, I have heard that before." Herzlich said.
Although cancer derailed Herzlich's hopes of being drafted by an NFL team, the New York Giants signed him as a free agent almost immediately after the NFL Lockout ended last summer. He played well enough in training camp to earn a spot on the 53-man roster, and even started in two games before getting hurt against the New Orleans Saints.
However, in 2012, Herzlich wants to do more than just earn a roster spot. After having to watch on the sidelines as the team went on an improbable Super Bowl run, he wants to return to the field in a starting capacity. In order to accomplish this, he not only will have to stay healthy, but the second-year player will have to beat out veteran Chase Blackburn for the middle linebacker position.
After Herzlich went down with an ankle injury in 2011, the team reached out to Chase Blackburn, who had been out of football ever since being cut by the Giants the previous offseason. Although many had low expectations for seventh-year veteran out of Akron, he did a more than serviceable job at middle linebacker, and even made the key interception that propelled the Giants to victory in the Super Bowl.
As camp continues to progress, Herzlich and Blackburn are engaging in a respectful, yet competitive battle for the starting middle linebacker spot.
While many hope Herzlich will be able to win the battle, he still has a lot to prove if he wants defensive coordinator Perry Fewell to give him increased opportunities in 2012. Herzlich did flash some potential last season; however, he did make some rookie mistakes as well. Furthermore, it is impossible to say how high Herzlich's upside will be. Nobody has any idea how the radiation treatments he received could effect his development as an athlete.
Despite all the uncertainty, head coach Tom Coughlin says Herzlich is looking good in camp so far.
"We really felt that with a year under his belt, and a chance to be in the offseason program, that this would be an opportunity for him to really come in and know what he's doing, and be the player that we all think he can be. So far, he hasn't disappointed." Coughlin said.
Mark Herzlich
is one of the most feel-good stories not only on the Giants, but in the entire
NFL
. After surviving a deadly disease and going undrafted, he is on the verge of securing an
NFL
roster spot for the second year in a row. While he is going to have to fight for playing time just like everyone else, that fact of the matter is that he's already won. He's proven that if you want something bad enough, and your willing to put the work in to get it, then you can be successful in life no matter what obstacles come before you. In an offseason that has been filled with arrests,
Mark Herzlich
remains a positive role model for all who watch him.
Also…
Tags:
2011 NFL Draft
,
Boston College
,
Chase Blackburn
,
Football
,
Mark Herzlich
,
Michael Boley
,
New Orleans
,
New York
,
New York Giants
,
NFL
,
Perry Fewell
,
Super Bowl
,
Tom Coughlin