Fans of all New York/New Jersey area teams are widely known as rabid fans. They pull no punches and never hesitate to share their opinions on team or player performance; they also never hesitate to share their thoughts on opposing teams or players. It's just in their nature to be the way they are, and athletes either love them or hate them. And that's why it came as no real surprise that former New York Giants running back Tiki Barber was loudly booed after being inducted into the Ring of Honor last year.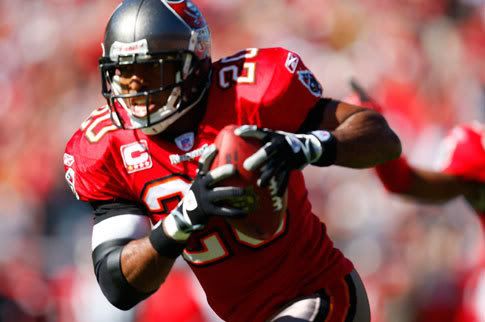 After criticizing quarterback Eli Manning, head coach Tom Coughlin and leaving his pregnant wife for a younger NBC intern, he was vilified immediately and became public enemy #1 in New York. Unfortunately for Barber, time has not healed all wounds, and despite his complete 180 on Manning, fans have been anything but quick to forgive. His twin brother and Tampa Bay Buccaneers cornerback, Ronde Barber, feels that's just the way New York fans are … and there's no way around it.
"It is what it is," Ronde Barber told USA Today Sports. "New York fans love to beat their stars down. It comes with the territory. In that city especially, it's a very thin line between fame and infamy. You just kind of roll with it."
Still, history should be kind to Tiki Barber and everything that he did on the field. After all, if Lawrence Taylor gets a pass, why not Tiki? It's something Ronde also believes will come with time.
"At the end of the day, he's still the Giants all-time leading rusher," Ronde Barber said. "He was an iconic player when he was there. They loved him. They'll love him again."
It should be noted that Ronde now owes Antrel Rolle royalties for using the phrase "at the end of the day."
In all seriousness, Ronde is probably spot-on with his view of the situation. It's going to take some time -a lot of time- but eventually New York fans will either learn to forgive or just simply forget what Barber did and said off the field that had them angry in the first place. After all, save for his personal relationship decisions, Barber said nothing others in the media hadn't or won't eventually say. Controversy equals ratings and when you're attempting to kick-start a new career, you want as much attention as you can get. In the end, that didn't work out in Barber's favor and he paid for it. Dearly. But it's not really worth holding a tremendous grudge over, and certainly not worth overshadowing the 10 years of dedicated service he gave the New York Football Giants.
The organization has forgiven him and the fans should too.
Also…
Football
,
Lawrence Taylor
,
New Jersey
,
New York
,
New York Giants
,
NFL
,
Ronde Barber
,
Tampa Bay
,
Tampa Bay Buccaneers
,
Tiki Barber
,
Tom Coughlin
Related Videos
Returning Soon!!!!
No related posts.