In terms of evaluating talent, New York Giants General Manager Jerry Reese has always had a knack for finding diamonds in the rough. Whether it be in the late rounds of the draft, or while signing undrafted rookie free agents, Reese has made some extremely savvy low-risk/ high-reward pickups while searching the immense scrap heap of lower-level NFL prospects. Victor Cruz and Mark Herzlich are both great examples of Reese's instinctual ability to determine a players true potential.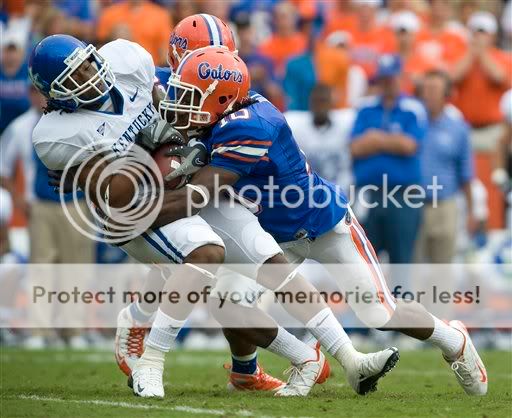 This season, it seems as if the Giants have once again come away with another extremely talented undrafted rookie free agent in safety Will Hill. Hill missed all of last season while remaining on the open market as an undrafted free agent. His character concerns scared most teams away. However, his character issues do not overshadow Hills immense potential. On Thursday, head coach Tom Coughlin was impressed by Hill's athleticism.
"Will Hill is practicing well. I think he got himself into a good weight for a safety in the spring and then lost some weight in Florida training. So you see a real quick, well-conditioned athlete right now. So he has definitely had a couple of days where he has stood out and he has stood out on teams too." Coughlin said.
With the four-game suspension of safety Tyler Sash for violating the league's performance-enhancing drugs policy, Hill is going to have an opportunity to step into the team's vacant third safety role. While many fans are clamoring for the return of Deon Grant, the team's first preference is that the younger, more athletic players on the roster master the playbook to the point where they can fill that void.
Although Grant was instrumental as a leader on the field and in the Giants' locker room a year ago, he is currently 32 years old and clearly possesses a diminishing skill-set. On the other hand, Will Hill is 6'1"/207lbs and runs a 4.46 40-yard dash. He has more than enough athletic ability to play safety in the NFL. In fact, if not for character issues, he most likely would have been an early-mid round draft pick out of college. On Wednesday, Giants safeties coach Dave Merritt addressed the potential the team sees in Will Hill.
"Will is a guy that we all see his athletic ability. This kid has speed. He has quickness, he has burst and acceleration, and this young man has all the tools that you want as a defensive back." Merritt said.
The only thing that has ever kept Will Hill from being recognized as an outstanding football player is himself. As an athlete at Florida, Hill developed into an outstanding player, only to throw it all away sending inappropriate messages via twitter. However, if he displays the ability to mature as a person, the ability to mature as a football player will quickly follow. As one of the more physically talented players on the Giants roster, the only obstacle between him and seeing some serious playing time will be how fast he can learn the playbook.
Even with Tyler Sash, the Giants' still had a relative lack of depth at the safety position. With another vacancy, Hill now has a legitimate opportunity to make the teams 53-man roster and suit up Week one against Dallas. Hopefully, we see a fresh face running the teams three safety package in 2012.
Also…
Tags:
Dave Merritt
,
Deon Grant
,
Football
,
Jerry Reese
,
Mark Herzlich
,
New York
,
New York Giants
,
NFL
,
Tom Coughlin
,
Tyler Sash
,
Victor Cruz
,
Will Hill