When it comes to New York Giants defensive end Osi Umenyiora, confidence has never been an issue. Throughout the duration of his nine-year NFL career, Umenyiora has often compared himself to the league's elite and considered himself one of the premiere pass rushers in the game. It was that line of thinking that led to lengthy contract dispute, which only recently ended by way of a restructured deal in 2012.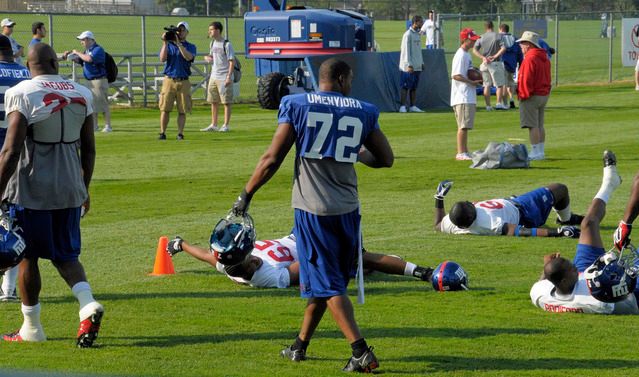 While attending an event at M&M's World in Manhattan on Tuesday, Umenyiora reiterated that faith in his ability, saying he still believes he's one of the best in the game.
"I feel like I'm the best DE in the league and when I go out there I feel I must play that way," Umenyiora said.
Contrary to popular belief, Umenyiora has never been one to be criticized for having a poor work ethic. Head coach Tom Coughlin, even throughout the duration of Osi's contract dispute with the team, has always revered #72 as one of the hardest workers on the team. In order to be the best, you must prepare like the best … and to his credit, Osi has always done that.
Umenyiora, although vocal, is also an upstanding citizen off of the field. Run-ins with the law have been non-existent for the veteran, so when he returned home from a trip to Africa, he was stunned to see just how many players had been arrested in recent weeks. He called the situations "ridiculous" and did not sugar coat his feelings on the matter.
"People need to be more focused and more grateful for what it is that they have," he said. "Coming from where I came from and seeing what I saw, all that poverty, people who have nothing, they would cut off both their legs to be given the opportunity that these people have. To be messing around like that is real unfortunate."
And who should NFL players model themselves after? Believe it or not, Umenyiora feels it's New York Jets quarterback Tim Tebow who sets the best example of what athletes should strive to be.
"I know everybody likes to make fun of Tim Tebow, talk about him, but he sets an outstanding example," Umenyiora said. "I think if more people would focus and try to be like him and carry themselves the way he does, I think this league could be better."
Also…
Tags:
Football
,
New York
,
New York Giants
,
New York Jets
,
NFL
,
Osi Umenyiora
,
Tim Tebow
,
Tom Coughlin