Complacency will not be an issue for the 2012 New York Giants, says punter Steve Weatherford. With the leadership of head coach Tom Coughlin, he fully expects Big Blue to go into the regular season with a singular goal in mind: defending their title and repeating as Super Bowl champions.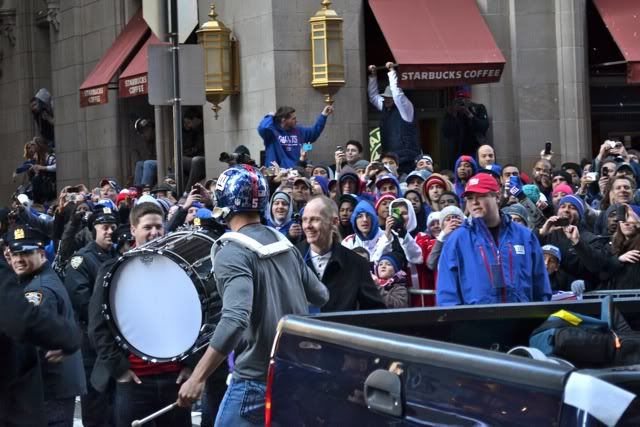 "Make it count, because you only get one opportunity to defend what you did," Weatherford said on Monday. "It's not like you can defend your title the year after you didn't win it. You only got one chance to do it, so make it count."
Whether it's a rookie looking for their first title or a veteran seeking their third with the team, Weatherford believes it will be the presence of Tom Coughlin that corrals the troops and gets everyone on the same page.
"I don't think we're ever going to have any problem being motivated," said Weatherford. "I think a lot of your motivation and the direction of your energy is controlled by the head coach, and we got the best coach in the game. The most difficult thing for a defending champion team would be the motivation to do it again. I think Tom Coughlin is the greatest coach in the NFL to be able to defend it. You look at the team he was able to put together the year after the '07 Super Bowl — just an incredible team."
The 2008 team did face a pitfall, however. It came by way of a tremendous distraction when wide receiver Plaxico Burress shot himself in the leg and was subsequently lost for the season. In order to avoid a similar distraction or mental lapse this season, Coughlin will undoubtedly need to remind his current crop of players that they all walk a very fine line and it only takes one bad apple to spoil the bunch.
The luxury these Giants already have going for them is that they're counted out by most. They're already the underdogs and that's exactly where they love to be. For the second time in five years they "got lucky" and are considered by many to be the third best team in their own division. So whether the motivation is to defend their title or prove the critics wrong (for third time), there's plenty to choose from and it's something Coughlin will not soon let them forget.
Also…
Tags:
Football
,
New York
,
New York Giants
,
NFL
,
Steve Weatherford
,
Tom Coughlin