Following two straight days in which retired New York Giants wide receiver Amani Toomer referred to Tony Romo as the premiere quarterback in the NFC East, future NFL Hall of Famer Michael Strahan came to the defense of Eli Manning, wondering aloud if Toomer's opinion has been swayed by the use of bath salts.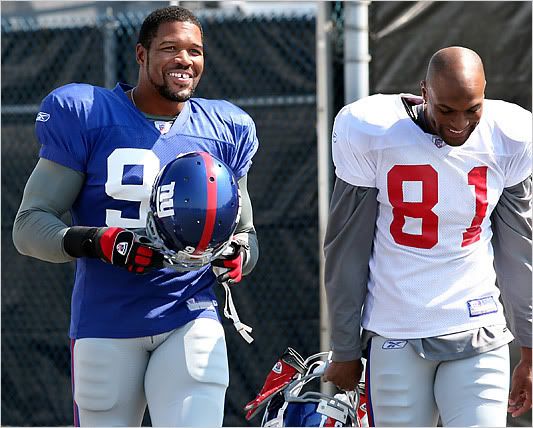 "You need to check [Toomer's] house for bath salts," Strahan said on the Hill and Schlereth Show on ESPN Radio. "I haven't heard anything, but that's surprising to hear. Somebody's always better than the next."
Toomer spent much of his day on Friday defending his comments from Thursday, when he said on Sirius XM radio that Romo was a better all-around quarterback than Eli. The opinion stirred up a lot of press, and an equal number of emotionally charged comments from former Giants teammates. In addition to Strahan, recently retired running back Derrick Ward slammed Toomer for what he felt was a ridiculous thing to say.
"Toomer, you really don't believe Romo is a better QB than Eli is, do you? What happened to you! Eli two SB rings, Tony Romo one playoff win," Ward tweeted. "Bottom line, Eli is a winner! I was in the backfield with him for five years and I've seen him grow into what he is now. I'd take Eli over Romo any day!"
Even Brandon Jacobs and Jeremy Shockey, who was known to have a poor relationship with Eli, weighed in on the situation .. both surprised by Toomer's comments. But Strahan was quick to offer up an explanation as to why Manning continues to be disrespected despite his success.
"I look at Eli and I think he's the only two-time [Super Bowl] winning quarterback in the league who gets less respect than anybody else," Strahan said. ""I think maybe it's his demeanor, maybe it's just the way he goes about his business. It's not showy and it doesn't look fancy and it's not extravagant looking but you know what, numbers don't lie, people do."
As recently as January of this year, even Dallas Cowboys owner Jerry Jones felt the biggest difference between his team and Big Blue was the quarterback. However, stating the obvious and going with the flow doesn't create shock waves, and as Toomer continues his transition into the world of media, he needs to stir the pot and garner some attention. Ultimately, it's the only legitimate explanation for his comments unless, of course, he really is on bath salts.
Also…
Amani Toomer
,
Brandon Jacobs
,
Dallas
,
Dallas Cowboys
,
Derrick Ward
,
Eli Manning
,
Football
,
Jeremy Shockey
,
Jerry Jones
,
Michael Strahan
,
New York
,
New York Giants
,
NFC East
,
NFL
,
Tony Romo
Related Videos
Returning Soon!!!!
No related posts.