Former New York Giants running back Derrick Ward has decided to retire from the league after a nine year career. Ward spent three seasons with Big Blue amassing 1,749 rushing yards during that time span. The best year of his career came in 2008, when he rushed for 1,025 yards while averaging 5.6 yards per carry. Ward released a statement via his twitter account a short time ago:
"To all my fans just wanted to let u know its been a great ride the last 9yrs but I'm calling it a career. I thank u all for believing in me!" Ward tweeted.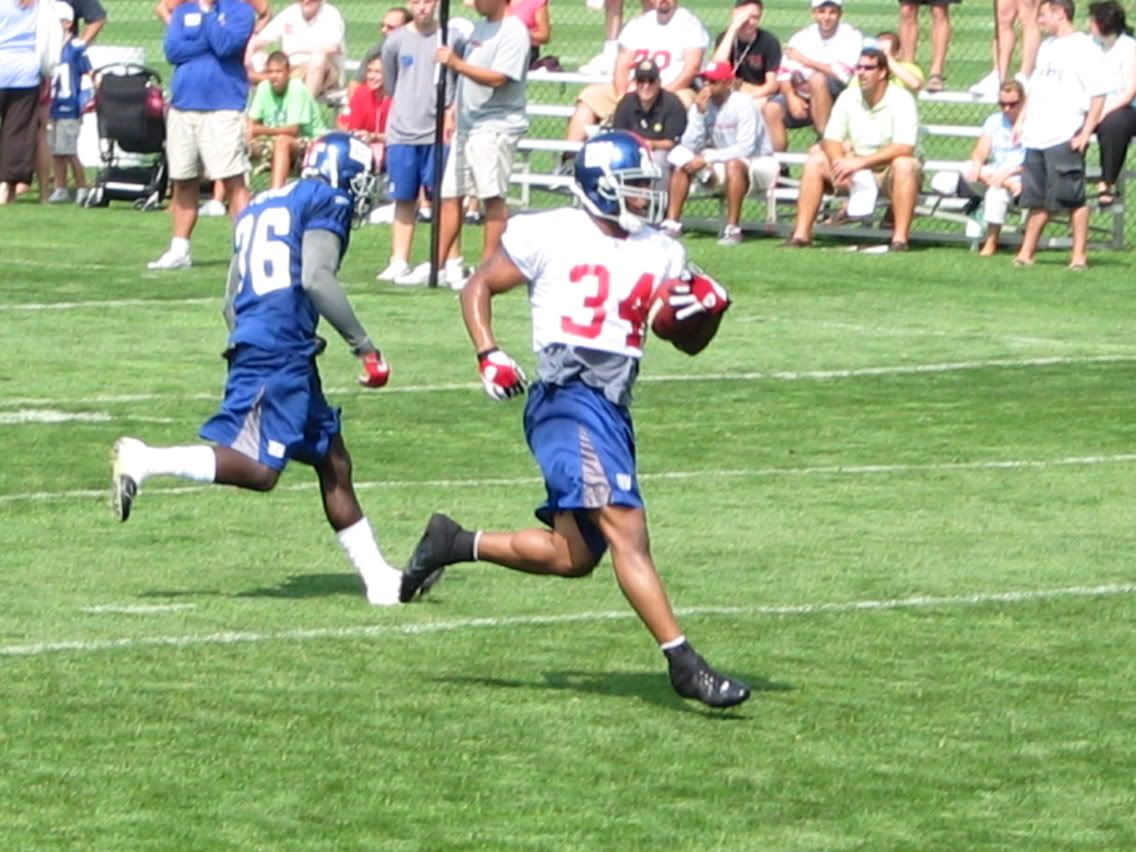 After being drafted in the seventh-round by the New York Jets in 2004, the Giants signed Ward off their cross-town rival's practice squad during mid-season. It took several years for him to see any significant carries; however, in 2008 he proved himself to be a reliable asset in the backfield. His performance helped Big Blue boast a three-pronged rushing attack along with Ahmad Bradshaw and Brandon Jacobs. The trio earned the nickname "Earth, Wind, and Fire."
After Ward's promising 2008 season, he signed a 4 year/ $17 million contract with the Tampa Bay Buccaneers. However, Ward was cut after only one season in Tampa Bay after rushing for a mere 419 yards in 2009. Raheem Morris, the head coach of the Bucs at the time, blamed Ward's less than stellar performance on poor conditioning.
For the final two seasons of his career, Ward played for the Houston Texans. He backed up Arian Foster and Ben Tate, and saw some significant playing time due to injuries in the Texans' backfield last season.
However, earlier in the offseason, Ward was informed by the Texans that he wasn't going to re-signed by the team because he was not going to be a contributor on special teams. Ward quickly pointed out that during his first four seasons with the New York Giants, he was a regular contributor to Big Blue's special teams units. However, after averaging a career-low 3.4 yards per carry last season, the Texans weren't willing to take a chance.
Giants 101 would like to congratulate Derrick Ward for an outstanding NFL career. It is quite an accomplishment to be drafted in the seventh-round and still manage to stay in the league for nine seasons. We wish him the best of luck in his life after football!
Also…
Ahmad Bradshaw
,
Arian Foster
,
Brandon Jacobs
,
Derrick Ward
,
Football
,
Houston Texans
,
New York
,
New York Giants
,
New York Jets
,
NFL
,
Tampa Bay Buccaneers
Related Videos
Returning Soon!!!!
No related posts.