As much as backup quarterback is an overlooked position in New York (in blue anyway), it is an ever-important role.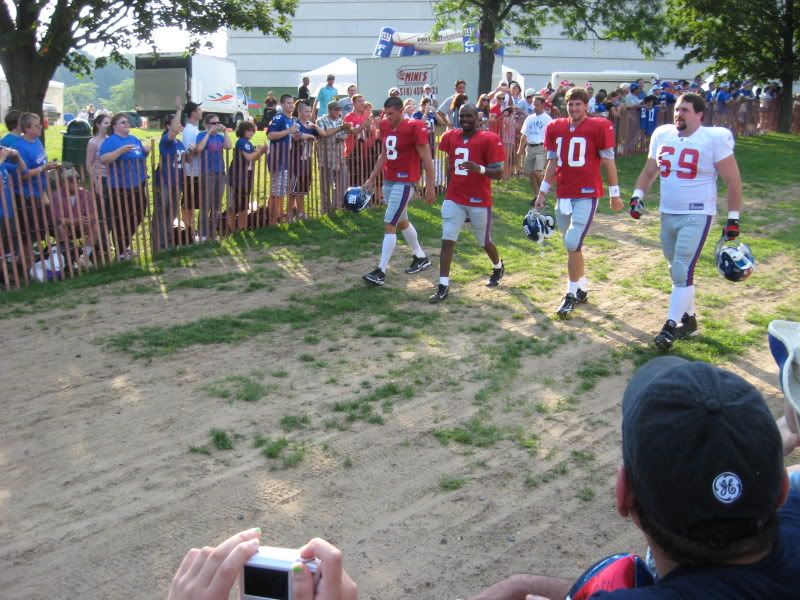 Rewind to the New York Giants' 1990 regular season when MVP quarterback Phil Simms went down in Week 15 with a broken right foot. Then-reserve QB, Jeff Hostetler stepped up and owned the part – right through Super Bowl XXV.
Giants fans don't ponder this as much with Eli Manning under center. Easy E has started in 119 consecutive games – all while taking a pounding during a number of those games. The epitome of his toughness, most will agree, was publicized throughout January's NFC Championship Game.
Many tend to forget back in 2007, during the Week one game versus the Cowboys when LB Anthony Spencer hit Manning on a 2-point conversion attempt, injuring the quarterback's left (non-throwing) shoulder. Initially, it was reported that #10 would miss four to eight weeks with a sprained/bruised AC joint; he hasn't missed a single regular season game since. Every serious football fan knows how the 2007 season ended for Manning and the New York Giants…
Considering the last number of years and all 32 teams' QB/injury situation, one has to realize how significant that reserve role justly is. The case of Hostetler is rarer than it is reality.
Division rival QBs Tony Romo and Michael Vick both succumbed to injury at some point in the last two years. Collectively, their teams went 9-10 with them in medical bay receiving treatment.
Ask fans from the Chicago Bears, Indianapolis Colts, Detroit Lions, Kansas City Chiefs, (even the Oakland Raiders early on in 2012 will chime in) if a capable backup is/was a need for Jay Cutler, Peyton Manning, Matthew Stafford, Matt Cassel, (and then, Jason Campbell). Ernie Accorsi could have told you so too.
"I always said the most important guy on your team is the quarterback and the second most important is the backup," remembers Ernie Accorsi, retired GM of the New York Giants (and Cleveland Browns). "I wanted (Kurt) Warner as soon as we got (Eli) Manning. In Cleveland in 1988, we had (Bernie) Kosar, (Gary) Danielson and Mike Pagel. Kosar and Danielson got hurt so I picked up (Don) Strock. We had six quarterback injuries. All four got hurt – Kosar twice – and we made the playoffs. You can't do that today. You can't afford that."
There are, of course, stories that aren't played out so horribly. Matt Schaub went down and then his backup (Matt Leinart) went down – putting rookie T.J. Yates in as the only quarterback to come in under center and have the team continue to play pretty much the same (more due to a fabulous running game that was hitting on all cylinders). Again, as with Hostetler (and Steve Young), it's rare.
Bear in mind, those teams with no true starter at quarterback or ones with ongoing quarterback controversy aren't being introduced as part of this equation.
Since no controversy is remotely near this gun-slinger position on the New York Giants, it's safe to say Eli Manning's health is a hotter commodity than QB David Carr and QB Ryan Perrilloux. This remains fact since the Giants tend to carry only two quarterbacks on their 53-man roster.
Since Carr has the actual regular season game experience of 11 years, it's pretty much a lock that the spot is his. However, Carr is 32-years-old and is now signing one-year contracts; this won't go on forever and at some point, he'll retire. The Giants will need to secure a reliable backup before that time hits. Question is will they groom him from within or try to grab someone in free agency as they've been doing?
Also…
Tags:
David Carr
,
Eli Manning
,
Ernie Accorsi
,
Football
,
Jeff Hostetler
,
New York
,
New York Giants
,
NFL
,
Ryan Perrilloux