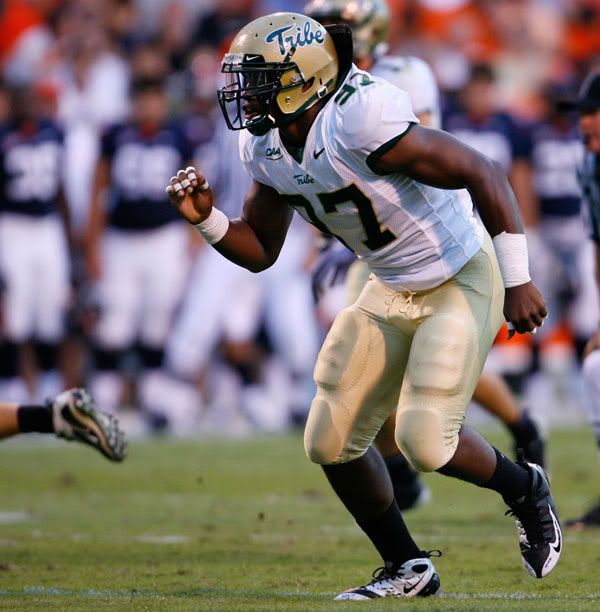 For most NFL teams the fourth defensive end on the roster may not be of utmost importance, but for the New York Giants its a very pressing matter. The Giants defense, or entire team for that matter, is unique because of how strongly it's success relies on its pass rush. For GM Jerry Reese and Co. finding the right player to replace former Giants' Defensive End Dave Tollefson is crucial.
Perhaps Giants' great and future Hall of Famer Michael Strahan is most responsible for this mindset the Giants organization has when it comes to defense. When he broke the single season sack record in 2002 racking up 22.5 sacks, he proved that having a formidable pass rush was the key to winning. Since then Giants management has brought in players such as Mathias Kiwanuka, Osi Umenyiora, Justin Tuck, and most recently Jason Pierre-Paul.
For those of you wondering who will be his replacement, Defensive Coordinator Perry Fewell has an answer. When asked about it, Fewell announced that Adrian Tracy and Justin Trattou are expected to compete for the fourth DE position.
Adrian Tracy is a natural linebacker from the College of William and Mary, selected by the Giants in the sixth round of the 2010 NFL Draft. He's a versatile player who can play defensive end as well as rush the edge from the linebacker position. After dislocating his elbow in the preseason of his rookie year, he was signed to the practice squad where he has remained for the last three seasons. Tracy has shown flashes of talent in the last couple preseasons but has yet to earn any meaningful playing time on the official roster.
Justin Trattou was signed by the Giants as an undrafted free agent from the University of Florida. Justin is keeping his hopes of getting playing time for the league's best d-line realistic.
"There's no doubt about it: this is the best defensive line in the NFL—period . So, being on this team, watching and playing with them, it's definitely a group that I want to be a part of. If you can be a part of this group of defensive ends, you can play on any team in the NFL."
It will certainly be interesting to see which of these two young talents will prevail and join the ranks of the most feared pass rush in the NFL. One thing is certain, the winner will need to work as hard as Tollefson who will most definitely be missed by the team and the fans. Stay tuned to Giants 101 for further updates.
Also…
Tags:
Adrian Tracy
,
Dave Tollefson
,
Football
,
Jason Pierre-Paul
,
Justin Trattou
,
Justin Tuck
,
Mathias Kiwanuka
,
New York
,
New York Giants
,
NFL
,
Osi Umenyiora
,
Perry Fewell