Today The New York Giants began their second set of workouts, this time at Bergen Catholic High School in Oradell, New Jersey. "Camp Eli" was unanimously ridiculed for its lack of seriousness and even more so its lack of attendance.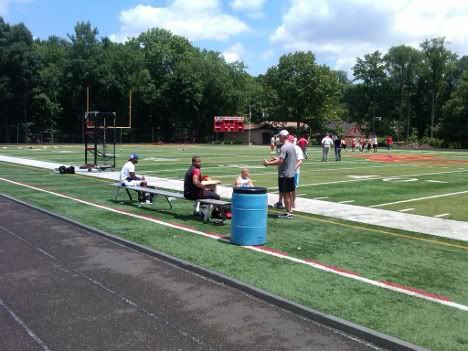 While a number of the Giants players have gone on record saying that they have no plans for a "full" team workout, it appears as if this coming week's worth of sessions will be the closest the team will get.
In attendance at Bergen Catholic were players from virtually every position on the team, and more impressively, there was a heavy contingency of rookies there.
Aaron Ross, Prince Amukamara, Greg Jones, Jim Cordle, Bear Pascoe, Eli Manning, Sage Rosenfels, Samuel Giguere, Jerrel Jernigan, Devin Thomas, and Da'Rel Scott were just a number of the players whom I could identify at today's workout.
Kevin Boss, David Diehl, Travis Beckum, and Hakeem Nicks all attended the last set of workouts and I would not be surprised if they showed up this coming week as well.
It was impressive to see so many of the team's rookies hit the field and try to get on the same page as the rest of the team. In talking with running back Da'Rel Scott, he thinks that the leadership that the team has in place will help the rookies during the uncertainty of the current lockout.
"The lockout is hurting our opportunity to learn the offense, but we are lucky to have veteran quarterbacks like Eli Manning and Sage Rosenfels to help learn the system," he told Giants 101.
Scott also went on to say that he wanted to do "big things" in his future with the Giants.
Both Scott and Jernigan spent about an extra 20 minutes with Sage Rosenfels after the physical portion of the workout to discuss scheme.
I would imagine that things would be easier for players on offense to learn the system with acting coaches in the form of quarterbacks, while the defenders are more on their own. Recently Prince Amukamara and Tyler Sash asked Terrell Thomas for his notes so that they could "catch up". Today offered first round selection Price Amukamara a chance to meet with veteran players like Aaron Ross and learn the scheme hands on.
I believe the Giants have approached this off season the right way. At the end of the day, every team will be offered an equal opportunity for training camp, and equal practice time. "Real" football practice can not truly be held without coaches to set up and help execute the practices. The Giants have a lot of veteran players, and thus far they seem to be doing the right things: meeting when they can and helping along rookie players who were not afforded the chance to workout with coaches and go over the plays.
Giants 101 will be keeping an eye on the practice sessions for the remainder of the week.
No tags for this post.